P-40M-10-CU 43-5802

---

This Hawk served with the RCAF during WWII, and was assigned the RCAF serial '840'.
After the war she was used as an instructional airframe at Oregen State University before
spending many years in storage at Troutdale Airport in Oregen. Acquired by Tom Camp in the
1970s, she was restored to flying condition in the early 1980s and, soon thereafter, purchased
by The Fighter Collection in Duxford, England. From 1985 to 1995 she was operated by TFC
until they traded her to Christophe Jacquard in Dijon, France where she was flown for
about three years before heading back to Duxford in 1998.
In 2005 43-5802 was purchased by Hangar 11 at North Weald in Essex, England, remaining there
until 2017 when she was acquired by Warhawk Llc and moved back across the pond to the USA.
---


Naked Hawk

These two photos were taken by John Kerr at the Confederate Air Force's annual show in
Harlingen, Texas shortly after 43-5802 was restored to airworthy in 1982 by Tom Camp.



John Kerr photo - Larger Image



John Kerr photo - Larger Image



Across the Pond

Just a couple'a years later The Fighter Collection obtained 43-5802 and she arrived at
Duxford on February 14th, 1985... still sans paint. Her first flight 'over there' took place
on February 27th, and these two photos were taken a couple weeks later, on March 17th.



Tony Clarke via David Whitworth - Larger Image



Tony Clarke via David Whitworth - Larger Image


What a GA-S

The Hawk didn't stay unpainted for long...
She was decked out in these splendid 112 Squadron markings in April of 1985.



John Dibbs photo via Aeroplane Monthly - Larger Image


Tigre Volant

In 1994 43-5802 headed across the Channel to France and was flown by Christophe Jacquard
in this pseudo-AVG paint scheme, meant to represent a ship of the 2nd Pursuit Squadron,
better known as the 'Panda Bears'. It wasn't too long, however (1998), before the Hawk
went back across the Channel to roost at Duxford once more.



Mike Freer photo - Larger Image


The following photo was taken at the 2003 Flying Legends show in Duxford.



Photographer Unknown - Larger Image


Flying Legends 2005

More photos HERE...



Ronnie Olsthoorn photo - Larger Image


The next five photos were taken at Duxford on various dates by Mike Shreeve...



Larger Image




Movie Makeup

In 2009, this Hawk was repainted for her role in the film 'Red Tails'.
She is shown here before the 'Clawin' Kitty' nose art was applied...



Project 914 Archives


Wings and Wheels 2012

More photos HERE...



Russ Hawker photo - Larger Image


Burma Banshee

In June of 2013, Hangar 11 unveiled a new paint scheme... More photos HERE...



Richard Crockett photo - Larger Image
(More of Richard's photos can be seen here)


A lovely shot of 'Lulu Belle' on takeoff at the Shoreham Airshow in 2014.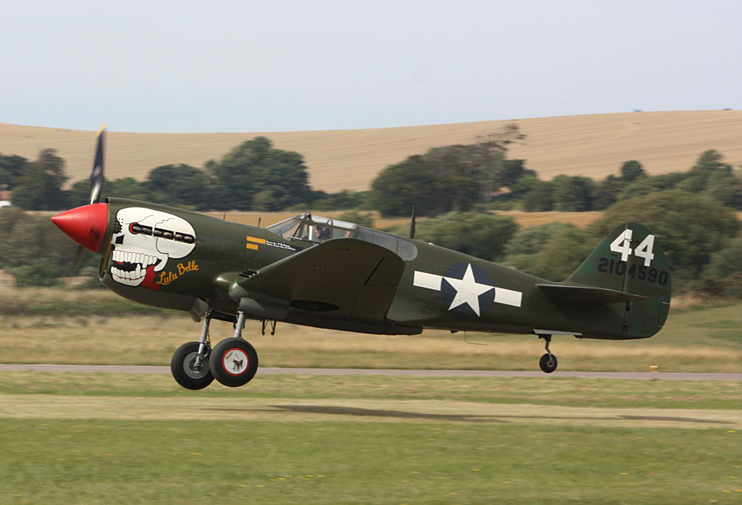 Melissa Drayton photo - Larger Image


---