P-40B 41-13297

---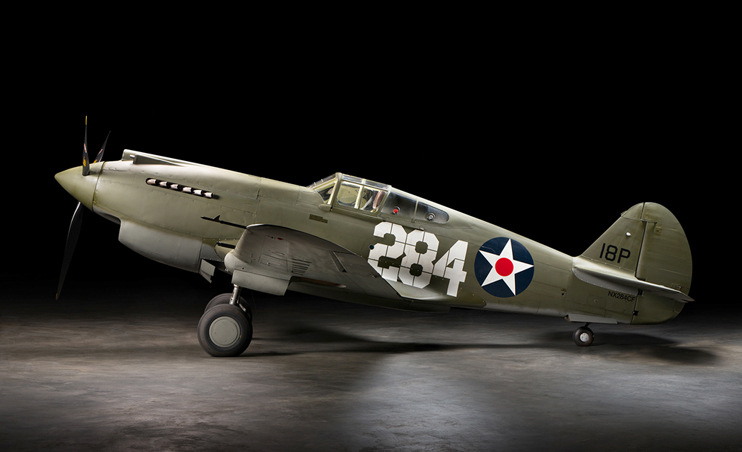 Collings Foundation - Larger Image


This Hawk was the first from the second batch of P-40Bs built for the USAAC, and was delivered in March of 1941.
Arriving in Hawaii the following month, 41-13297 was assigned to the 19th Pursuit Squadron, 18th Pursuit Group and
given the buzz number '284'. On October 28th, 1941 1Lt. Cecil J. Locke, Jr. ground-looped 41-13297 while landing
at Wheeler Field, and the ship was set aside for repairs. When the Japanese attacked Hawaii on December 7th,
'284' was still awaiting repair and survived that day of infamy without suffering further damage.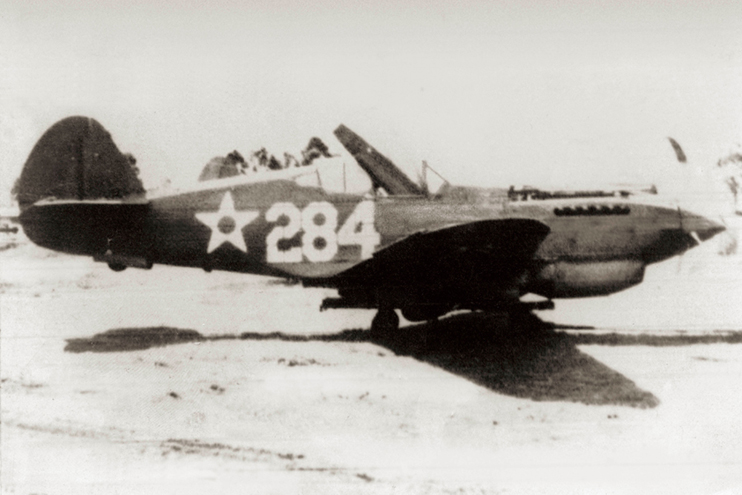 Collings Foundation - Larger Image


Soon thereafter, 41-13297 was returned to airworthy status. I have conflicting info as to which squadron she was
subsequently assigned to, the 6th or the 73rd, but she was flown by a 6th PS pilot on the day of her demise. On January
24th, 1942, while conducting aerobatic maneuvers over the Ko'olau Mountain Range on what was reportedly his first familiar-
ization flight in a P-40, Lt. Kenneth W. Sprankle got into trouble. Apparently he slow-rolled 41-13297 and the engine quit
while inverted at about 8,500 feet. The ship entered an inverted spin and, with 2,500 foot mountains below, there was
not enough altitude to recover and Sprankle, after managing to right the ship, augered in, skidding into the mountainside.
Lt. Sprankle's body was recovered shortly after, and he is now interred at the National Memorial Cemetery of the Pacific
(known as 'Punchbowl Cemetery'), located at Punchbowl Crater in Honolulu, Hawaii.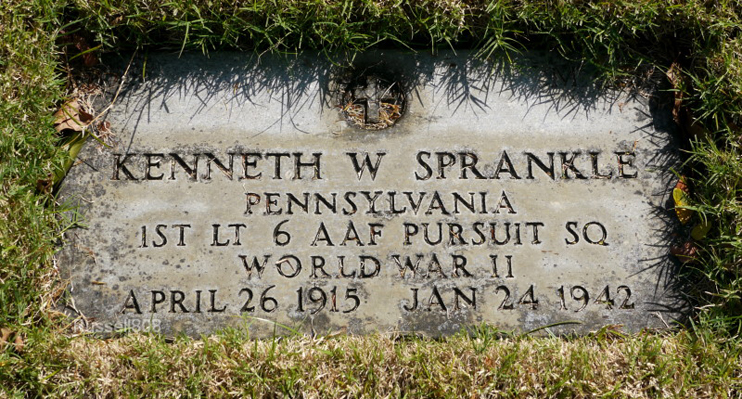 Posted by 'Russell808' on findagrave.com

The ship remained on that Hawaiian mountainside for more than forty years before the crash site was rediscovered in
1985. Eventually the wreck was recovered, and in 1989 restoration work began in Torrance, California under the name
'Project Tomahawk' by a group of folks who would form the Curtiss Wright Historical Association in February of 1990.


Curtiss Wright Historical Association - Project Tomahawk


Work progressed slowly over the course of twelve years or so until 2002 when '284' was acquired
by Stephen Grey and The Fighter Collection. Though I have come across conflicting information as to
where certain components were fabricated, the project was transferred over to Matt Nightingale's
shop, California Aerofab, where it seems the majority of final restoration work was carried out.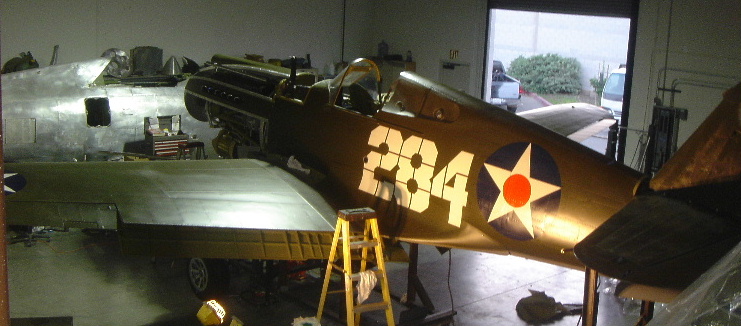 From Unknown Ish of either 'FlyPast' or 'Aeroplane' Magazine


Five years later, after final assembly in Chino, California, the newly rebuilt ship took to the air for the first
time on January 12th, 2007, becoming the 'modern' world's second airworthy example of a Curtiss Model 81.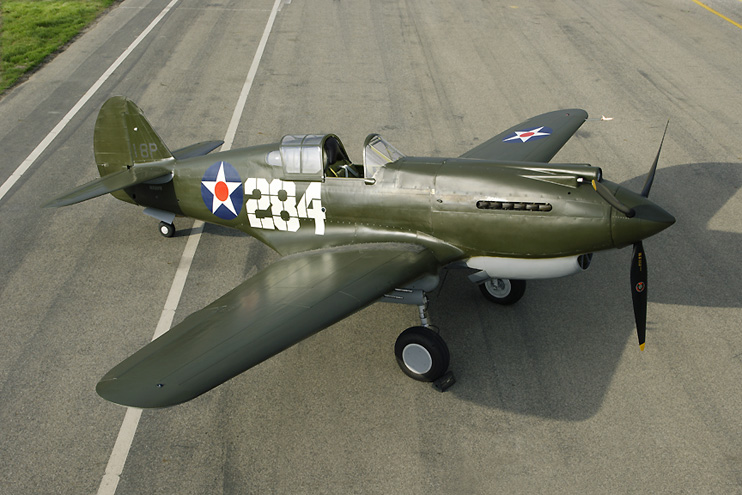 John Dibbs photo - Larger Image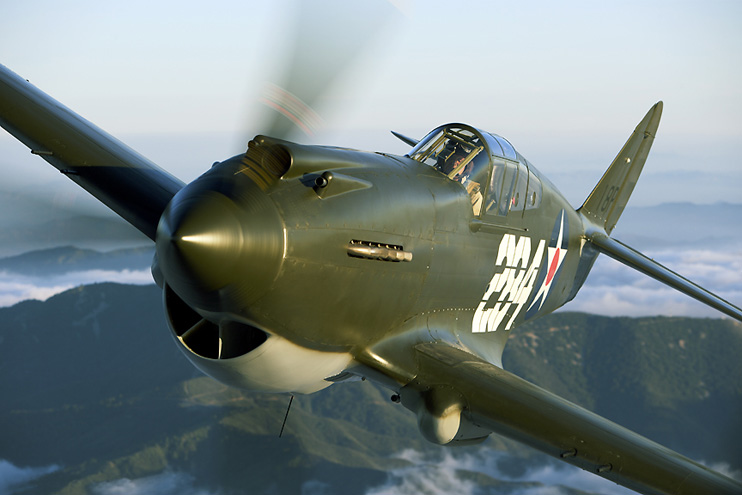 John Dibbs photo - Larger Image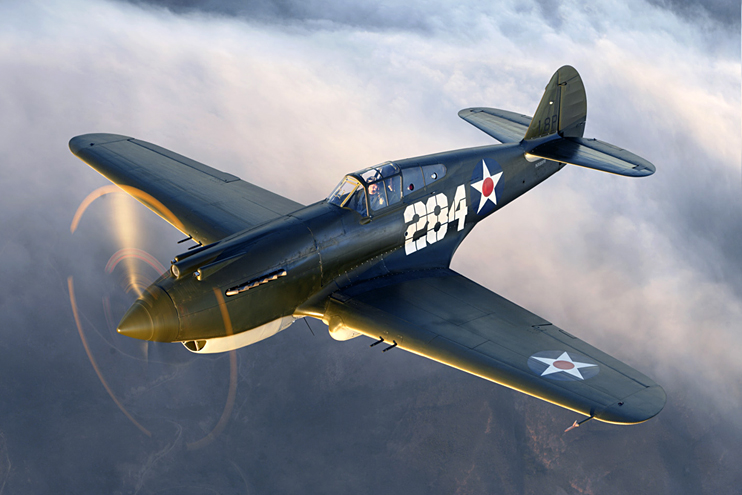 John Dibbs photo - Larger Image

John Dibbs photo - Larger Image


Heavily involved in 'Project Tomahawk' from the beginning was a fella named Kent Lentz. He was a
driving force behind the rebuild of this Hawk, and was involved in some of the other Model 81 projects
as well. You can see an interview with him HERE, where he explains a bit about what was involved.
For an astounding look at the recovery and rebuild process, from beginning to end, take a looksee here:



After a brief time in the USA, '284' was shipped to the UK where she spent several years flying from
Duxford with The Fighter Collection, often taking to the skies with some of her Curtiss sisters and cousins.


The following two photos were taken at Duxford during the Flying Legends show in 2007.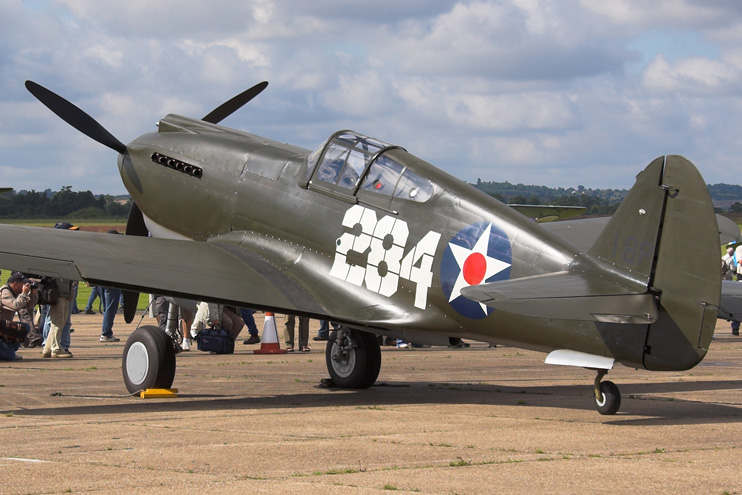 Ben Allsup photo - Larger Image

Ben Allsup photo - Larger Image


A fine view of '284' climbing out, Duxford, 2012...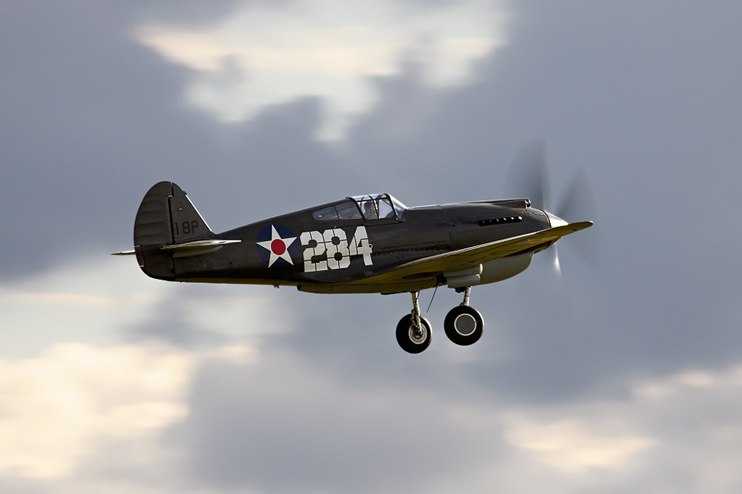 Craig Hollis photo - Larger Image


Super-Groovy shot! Duxford, 2012...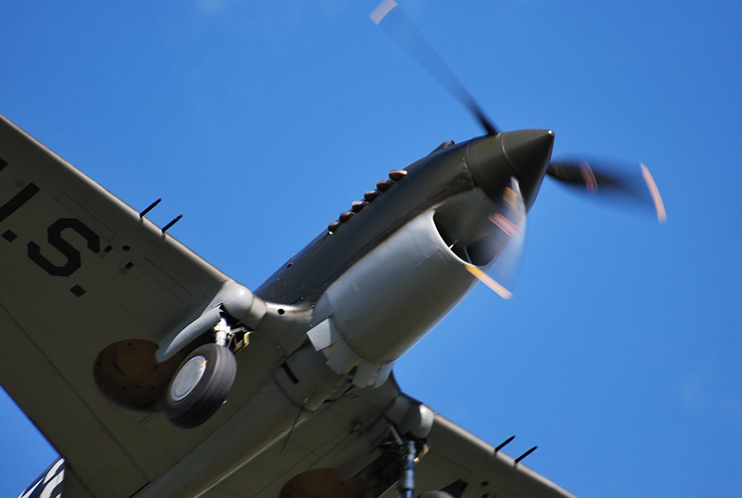 Preserved Aircraft on Flickr - Larger Image


In 2013 '284' was purchased by an anonymous buyer and donated to the Collings Foundation. Arriving in the
USA on August 22nd, 2014, she was reassembled by American Aero Services in New Smyrna Beach, Florida.


Folks from The Fighter Collection load '284' into a shipping container on March 20th, 2014.
You can see some photos of the disassembly and prep process HERE.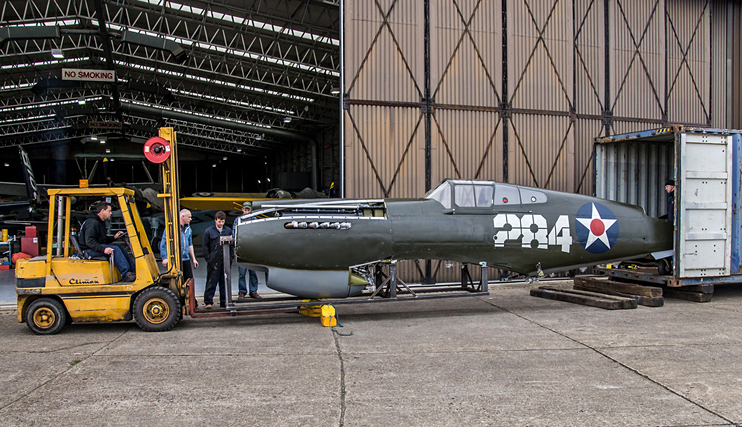 Brian Marshall photo - Larger Image


Unfortunately, on October 29th, 2014, '284' was groundlooped upon landing at the New Smyrna Airport
and was damaged substantially. You can read more about the incident on this page of the NTSB website.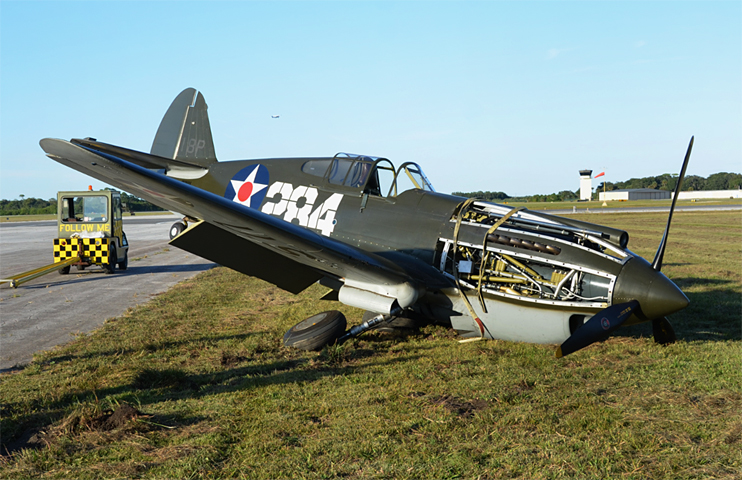 Federal Aviation Administration via National Transportation Safety Board - Larger Image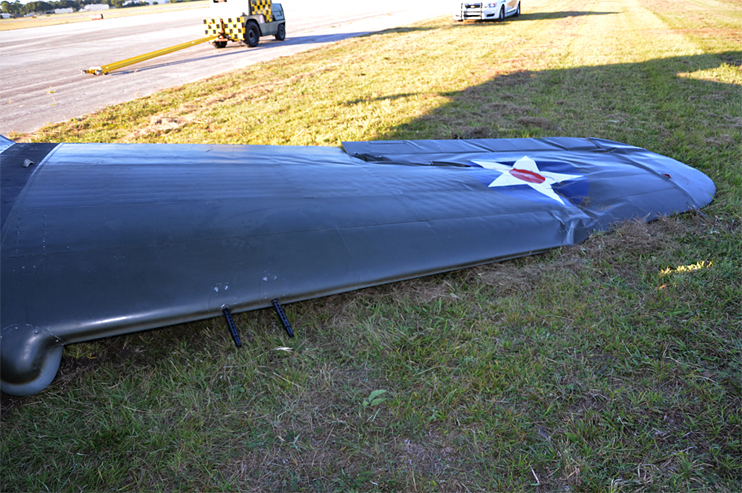 Federal Aviation Administration via National Transportation Safety Board - Larger Image


Repair work on the fuselage was undertaken by American Aero Services in New Smyrna Beach, and I
have been told that the wings were sent to Idaho and the engine to California, though I currently have
no information as to which shops were involved. (EDIT: I have subsequently been informed that the
wings were sent to California Aerofab; thanks, Kent Lentz!) The rebuild was completed in 2017 and
'284' once again took flight. Hopefully we'll see her grace the skies over Buffalo, NY sometime!


Here we see '284' at New Smyrna Beach in February of 2017, toward the end of the post-accident rebuild.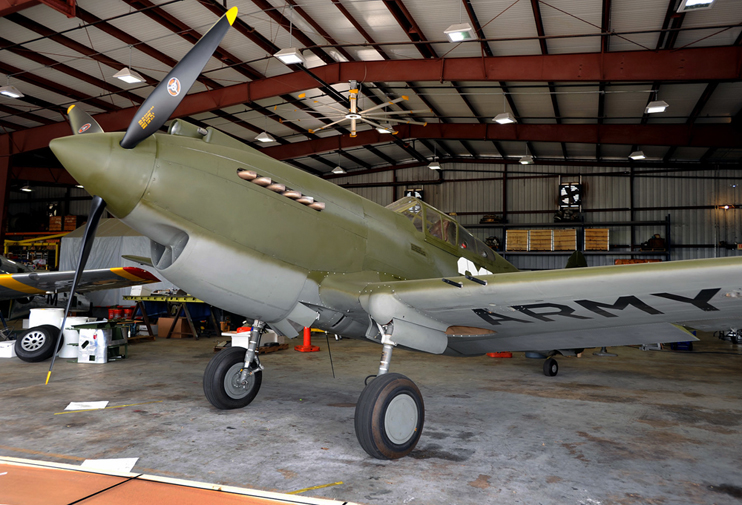 Ralph Pettersen photo - Larger Image


A rather surreal inflight view of '284', taken after she had returned to the air in 2017.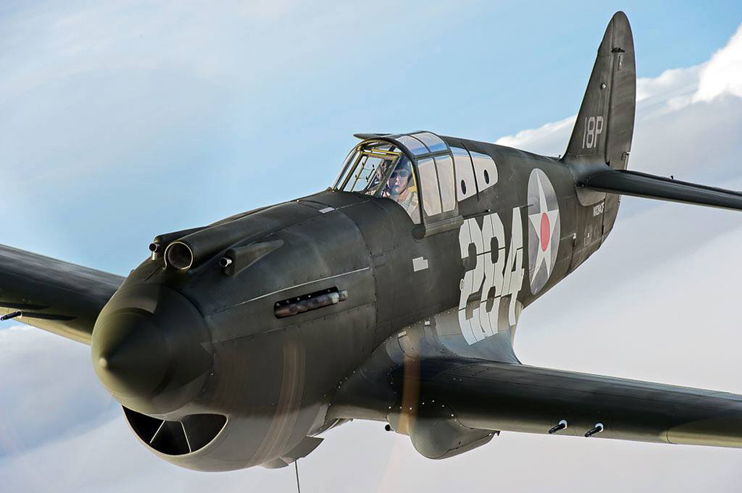 Scott Slingsby photo - Larger Image


---

This P-40 is currently part of the Collings Foundation collection.


---