This P-40 was built as a Kittyhawk I for the RAF. She was purchased by the British Purchasing
Commission and did not fall under any Lend-Lease agreement and therefore did not receive
a US Army serial number. She was given the RAF serial AK752 but was handed over to
Canada and received the RCAF serial 1028. She served with 132(F) and 133(F) Squadrons
in defense of Canada's West Coast and is said to have downed two Japanese balloons.



Kittyhawk I AK752 is shown at RCAF Station Rockliffe in this photo dated May 25th, 1942.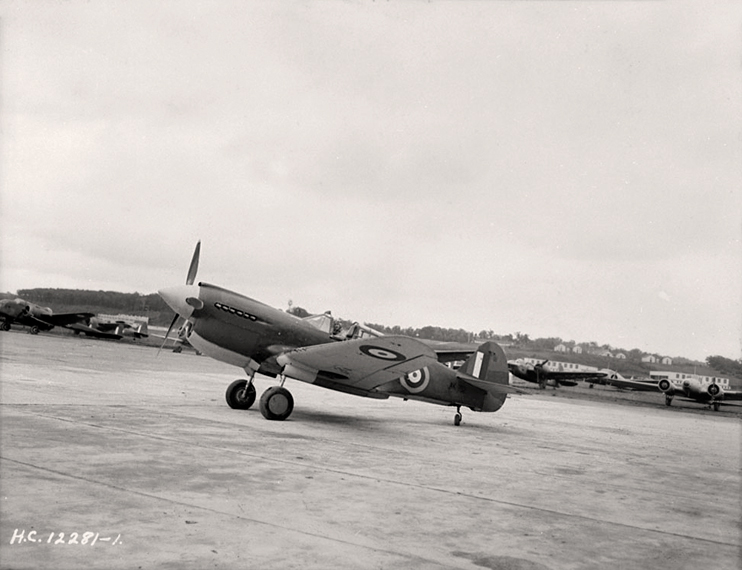 Library and Archives Canada - Larger Image


In 1947 she was acquired by a farmer in Alberta and used as a parts bin before being buried in
1952. For the next twenty-three years she remained thirteen feet below the ground, being exca-
vated in 1975. The first parts of the ship to be unearthed were some of the exhaust stacks which,
at the time, encrusted in dirt as they were, reminded the excavators of dinosaur bones. This led
to the Hawk being dubbed 'Curtissaurus Rex'. The ship was found to be in very good condition, given
the circumstances, and mostly complete. Over the course of thirteen years AK752 was restored back
to flying condition by Steve Seghetti in California and Col Pay in Australia.
She was acquired by her current owner, James E. Smith of Fortine, Montana, in 1994 and is today
one of many aircraft in Mr. Smith's Stonehenge Air Museum, which is part of Crystal Lakes Resort.

You can view the entry for this P-40 in WRG's Warbird Registry HERE.
---

The following three photos show AK752 while owned by Col Pay.



John Parker photo



John Parker photo



The DMP Collection


Here's AK752 as she appeared in 2005.



Stonehenge Air Museum



Stonehenge Air Museum



Stonehenge Air Museum


---