This P-40N was delivered to the USAAF in May of 1944 and served with the 268th AAFBU at Peterson AAB
from June 1944 until March, 1945. The following photo shows 44-7369 leading a four-ship from Peterson.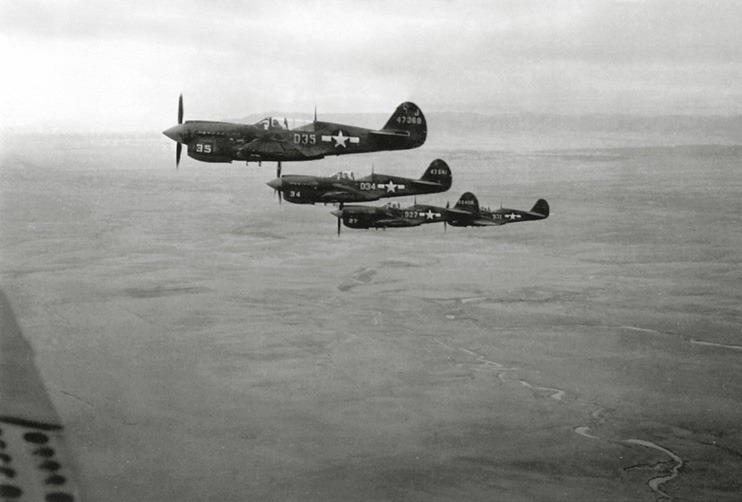 Peterson Air and Space Museum collection - Larger Image

Personnel of the 268th AAFBU install a new propeller on P-40N 44-7369, Fall 1944.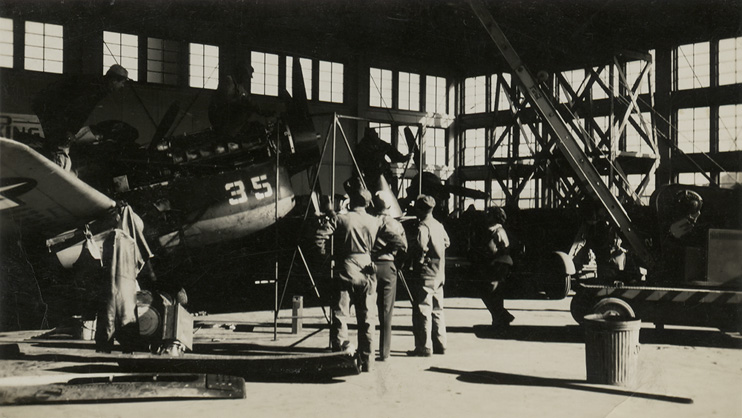 Project 914 Archives (S. Donacik collection) - Larger Image

In March 1945 the aircraft was transferred to the 232nd AAFBU at Dalhart Field, Texas where it served
until struck off charge the following June. Fortunately, 44-7369 escaped the scrapper's torch, winding
up at Cal Aero Technical Institute located at the Grand Central Air Terminal in Glendale, California.
(Coincidentally, Cal Aero was formerly known as the Curtiss-Wright Technical Institute)
From 1957 to 1970 she was part of Ed Maloney's 'Air Museum' at Claremont, and later, Ontario, California.
Since then the ship has changed hands several times, moving from California to Canada... then back to
the USA, from Colorado to Florida and finally Texas.
44-7369 is currently part of the Cavanaugh Flight Museum in Addison, Texas.


---

This photo from 1964 shows 44-7369 while part of the 'Air Museum' in Ontario, California.



W.C. Bohannon photo - Larger Image


This photo was taken in June of 1974 at Windsor, Ontario. Registered as C-GTGR, the aircraft was at the time
owned by Don Plumb, organizer of 'Airwar 74'. However, the pilot here is Max Hoffman, who subsequently
purchased the aircraft, owning it for only a short time before it went to John Williams of Tampa, Florida.



Peter R. Arnold photo


Texan skies, 2000... a few years after joining the Cavanaugh Flight Museum.



Photo by 'Air2Air' - Larger Image


The following photos were taken by your webmaster at Geneseo, NY in 2008.



a BuffaloWingz photo by Steve Donacik - Larger Image



a BuffaloWingz photo by Steve Donacik - Larger Image



a BuffaloWingz photo by Steve Donacik - Larger Image



a BuffaloWingz photo by Steve Donacik - Larger Image



a BuffaloWingz photo by Steve Donacik - Larger Image


---