The Curtiss P-40
in Soviet Service
---

The Curtiss P-40 was the first US fighter supplied to the Soviet Union through Lend-Lease.
Despite being viewed by the Soviets as somewhat obsolete, the type was nevertheless pressed into
service on all fronts and saw a good deal of action in a number decisive battles; although its own
contribution was hardly a deciding factor, except perhaps in the fighting around Leningrad.
For a comprehensive online work dealing with the P-40 in Soviet service, see the following page:
The P-40 in Soviet Aviation

Also from the same site, here's an interview with a pilot who flew P-40s on the Leningrad Front:
Interview with Leonid Sergeevich Kulakov


---

Winter Hawks

Tomahawks of 126 IAP prepare for takeoff at an airfield near Moscow, December 1941.
The ship on the right in the background was flown by Senior Lieutenant S.G. Ridnyi.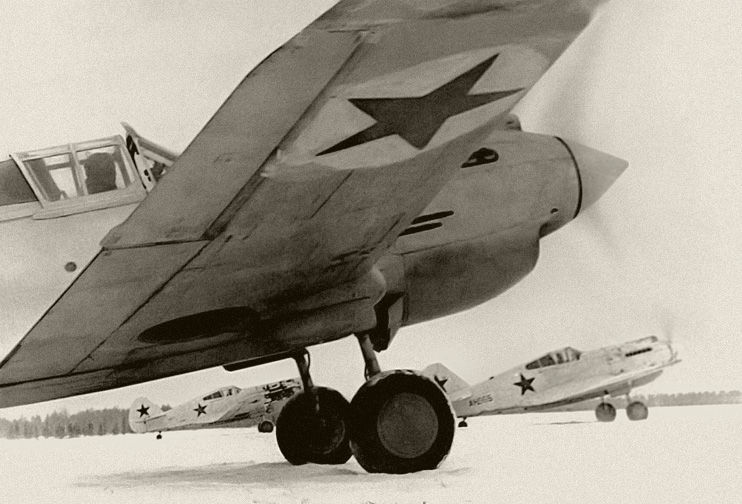 Project 914 Archives - Larger Image


A Tomahawk of 126 IAP being readied for a mission.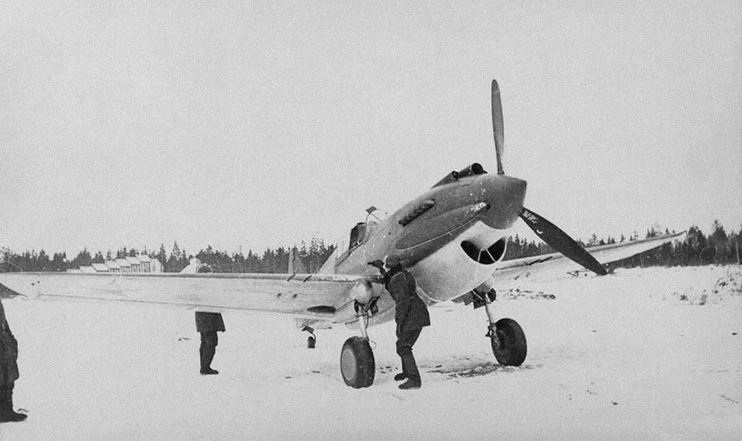 Original image source - Larger Image


A Tomahawk of 154 IAP on the Leningrad Front, December 1941.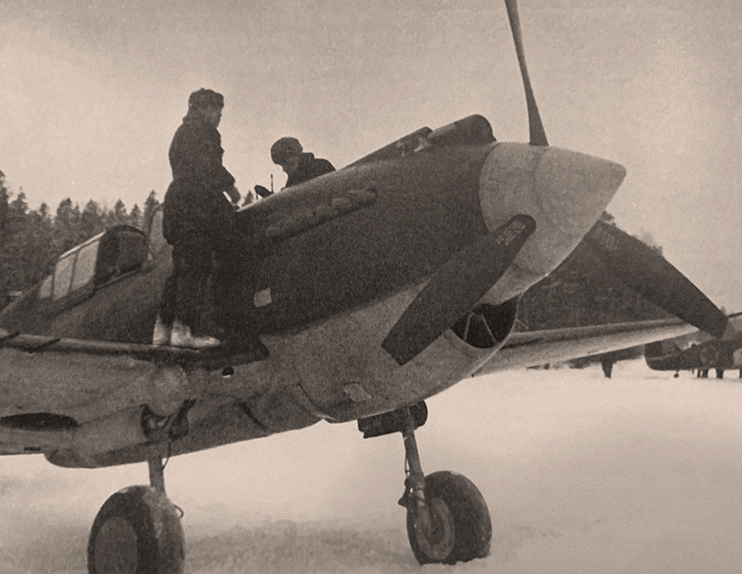 From: 'VVS Air War: Russian & Soviet Aviation' Facebook Page - Larger Image


Heavily retouched news photo of a Soviet Tomahawk.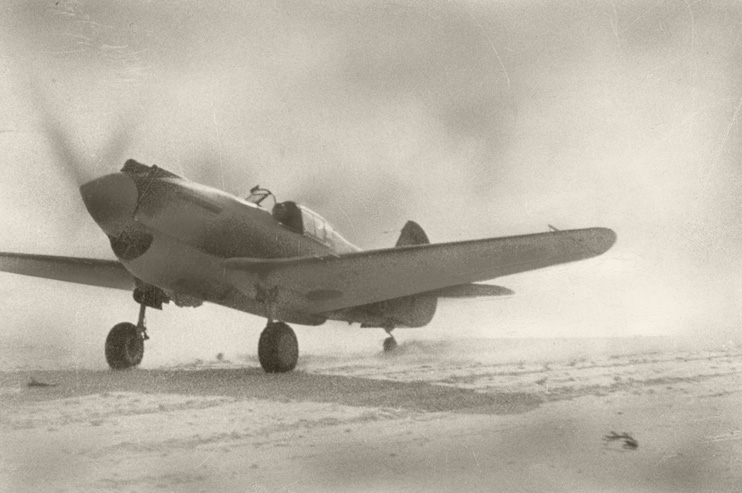 Project 914 Archives (S.Donacik collection) - Larger Image


The following three photos were found here.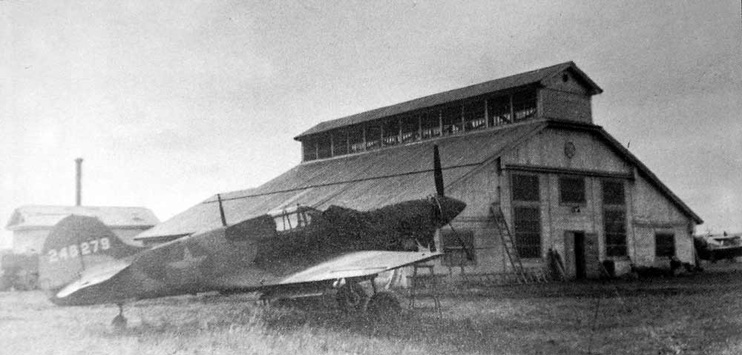 'Alexander the Cat' - Larger Image


Dmitry Debabova via Sergei Konyhin - Larger Image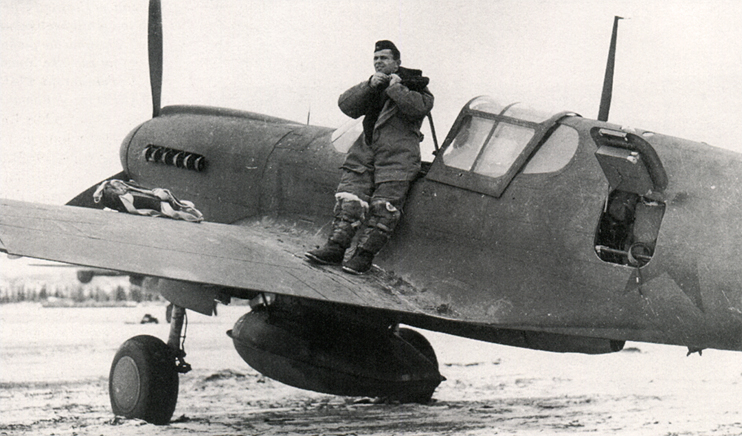 'Alexander the Cat' - Larger Image


Migrating Hawks

Aside from Arctic convoys and the ALSIB route, the USA also delivered aircraft to the USSR
through Iran. The following photo shows the assembly of P-40Ks (both short and long-tailed)
at Abadan Airfield during March of 1943. Also visible outside the hangar are numerous Douglas
A-20 Havocs, Bell P-39 Airacobras, at least two North American AT-6 Texans, and many P-40s.
See more photos of red-star P-40s at Abadan HERE...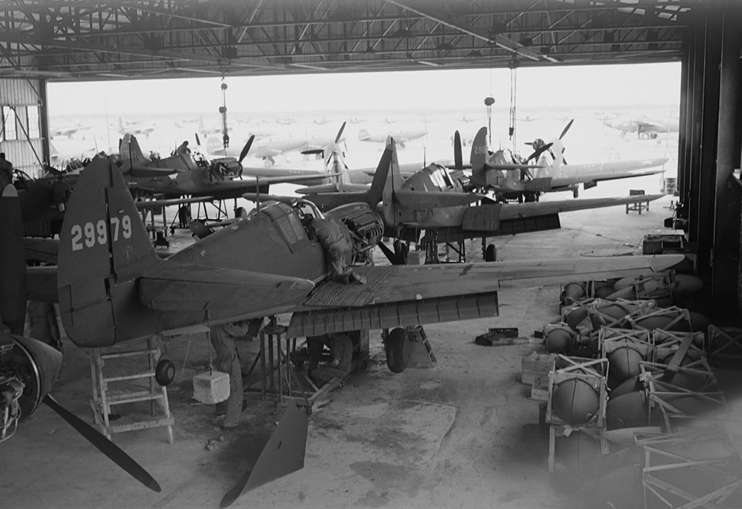 Nick Parrino photo, FSA/OWI Collection (Library of Congress) - Larger Image


Fighting Hawks

Four pilots from 154 IAP with one of their Hawks on the Leningrad Front.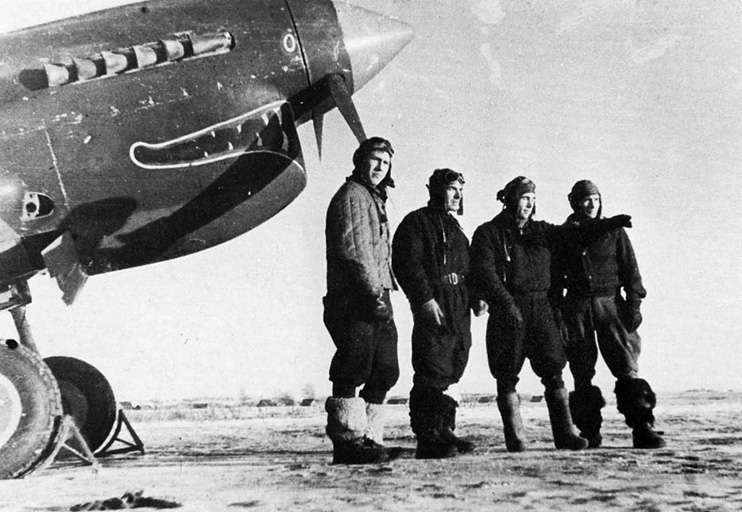 Original image source - Larger Image


A P-40E of 29 IAP on the Karelian Front during 1943.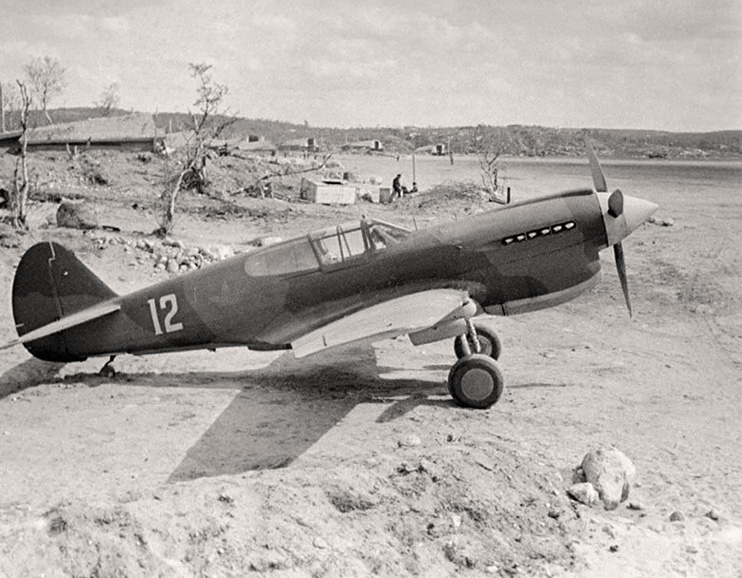 RGAKFD via EnglishRussia.com - Larger Image


Four P-40s from 191 IAP on the prowl, 1944...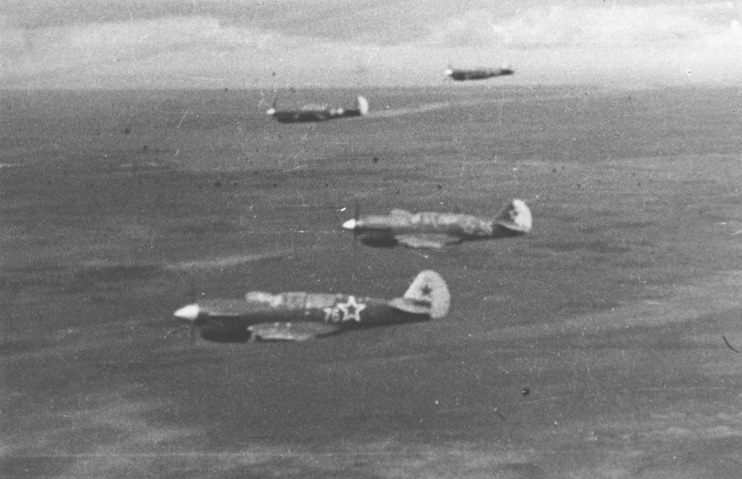 Original image source - Larger Image


This P-40M from 191 IAP force-landed behind Finnish lines and was captured on December 27th, 1943.
More info and photos, taken post-capture, can be seen HERE.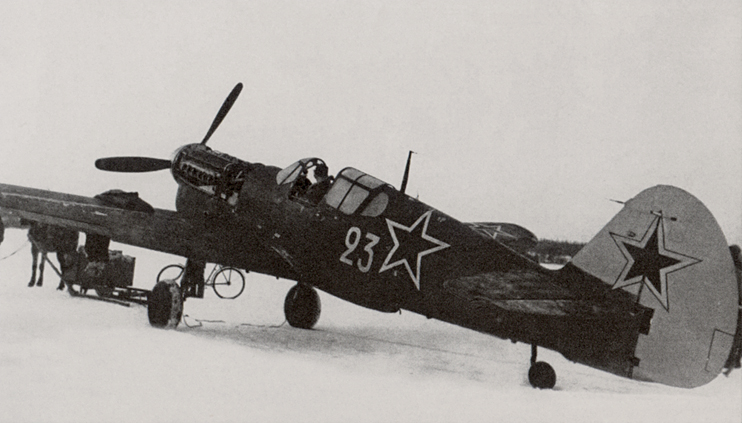 From: P-40 Warhawk in action #205 by Rich Dann (Carl-Fredrik Geust collection) - Larger Image


Grigoriy Dmitryuk, fourth from left, with comrades of 19 GvIAP after a sortie during
which he scored two victories. Dmitryuk went on to score a total of eighteen victories
in the Great Patriotic War and a further five during the Korean War while flying the
MiG-15. An excellent article about the 19th Guards Fighter Aviation Regiment, written by
Anton Pavlov, can be found on this page from the Red Stars Over Germany website.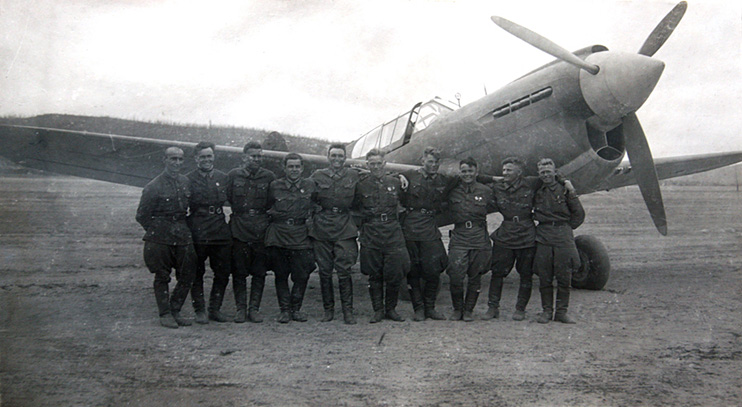 Anton Pavlov collection - Larger Image


Major Georgy Vasilyevich Gromov, commanding officer of the 20th GvIAP (formerly the 147th IAP)
with Kittyhawk #70. Gromov shot down at least seven enemy aircraft, but was credited with an
adjusted total of thirteen, based on the Soviet practice of combining personal and group kills.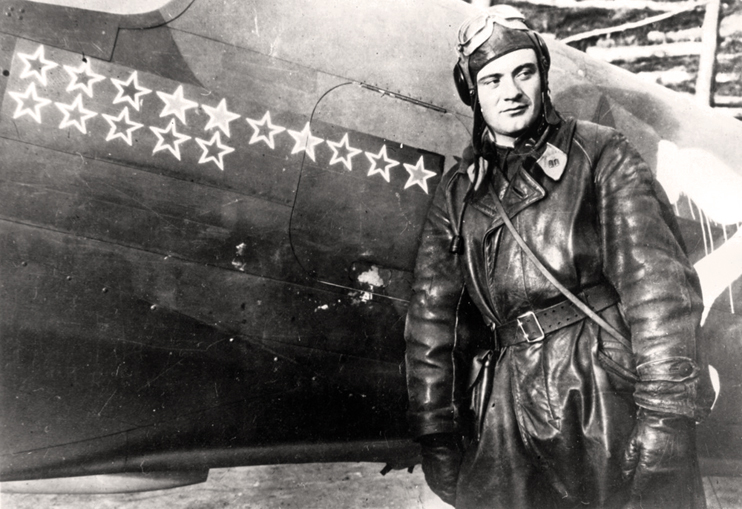 Original Image Source - Larger Image


These next two photos show Leonid Sergeevich Kulakov, who flew the P-40 with 103 GvIAP.
They accompany an outstanding interview with Kulakov, which can be found here.

Kulakov is congratulated by Party Organizer Smirnov for downing two He 111s in one fight.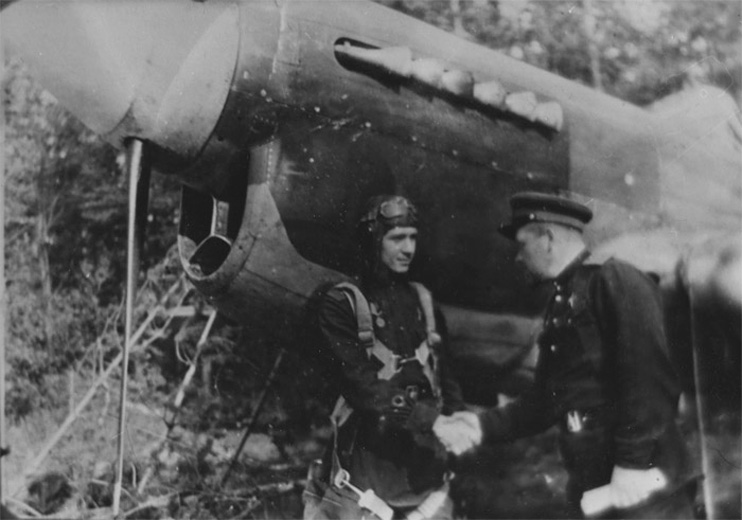 L.S. Kulakov collection


Kulakov has his pulse checked by 103 GvIAP's flight surgeon.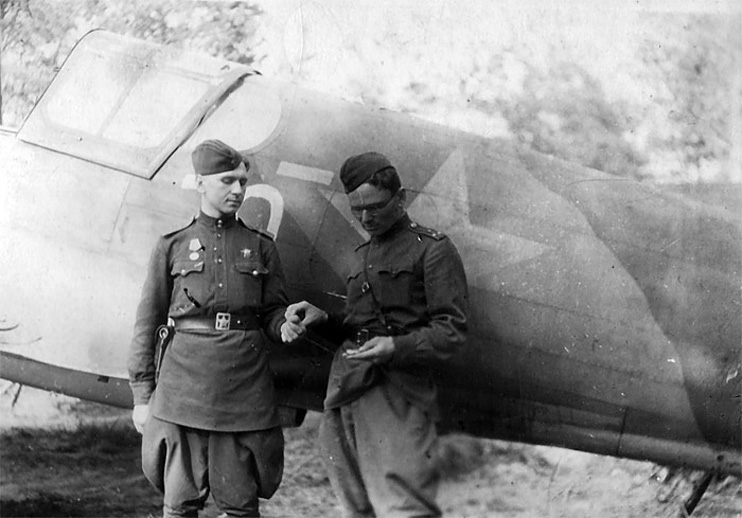 L.S. Kulakov collection


Butchered Hawk
This is one of more than forty P-40s to be re-engined with Soviet-made Klimov M-105P and
M-105R engines, at the suggestion of Major A. A. Matveyev, commander of 154 IAP. Aside
from ruining the sharp lines of the P-40's nose, performance was degraded somewhat and,
as pleasing aesthetics are of no concern in such matters, it was undoubtedly the latter
rather than the former which apparently ensured that no further conversions were made.
Ugly or not, though, this is an interesting if obscure chapter of the P-40 story.

Here's a quote from the first webpage that I linked at the top of this page:
Because there were no spare Allison engines, and the fighters were in great demand,
the regiment commander Major A. A. Matveyev, suggested that Soviet-manufactured engines
M-105P and M-105R be installed in the P-40Es. More than 40 fighters were duly modified
at the 1st Aviation Repair Base of 13th Air Army (at the same time several single-seaters
were converted into two-seaters. Naturally, the installation of a less powerful engine
resulted in a diminution of the fighter's performance. The maximum speed of a P-40E with
the M-105P engine and VISh-61P propeller was reduced by 12 kmh (from 477 to 465 kmh).
Therefore the modified fighters were quickly transferred to another regiment (196th IAP).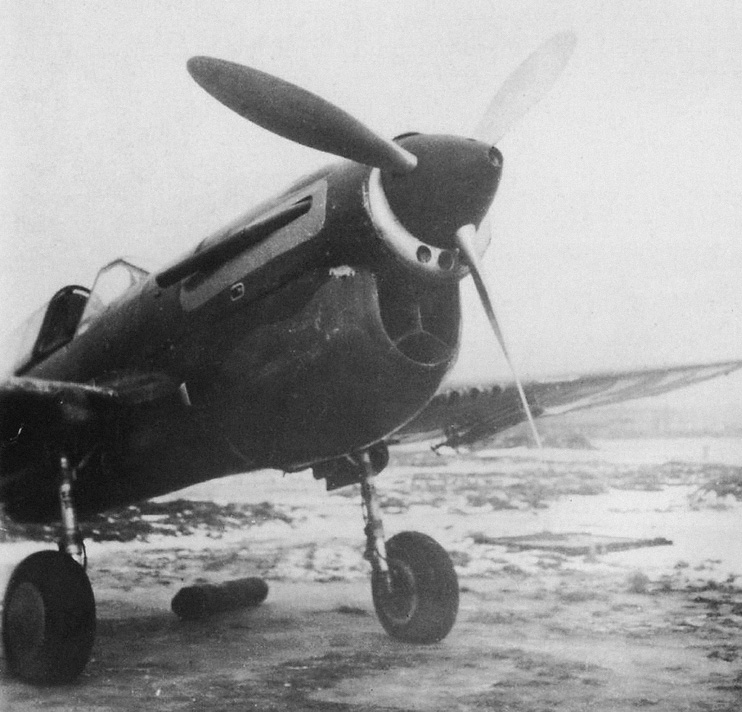 From the now-defunct AWF forum - Larger Image


---