P-40s at Luke Field, AZ
---

P-40 39-184

Seen here while used as a transition trainer at Luke Field in 1942 is the twenty-ninth
production P-40. This ship was destroyed on May 22nd, 1943, after an inflight fire.
A feature page for 39-184 is currently in the works...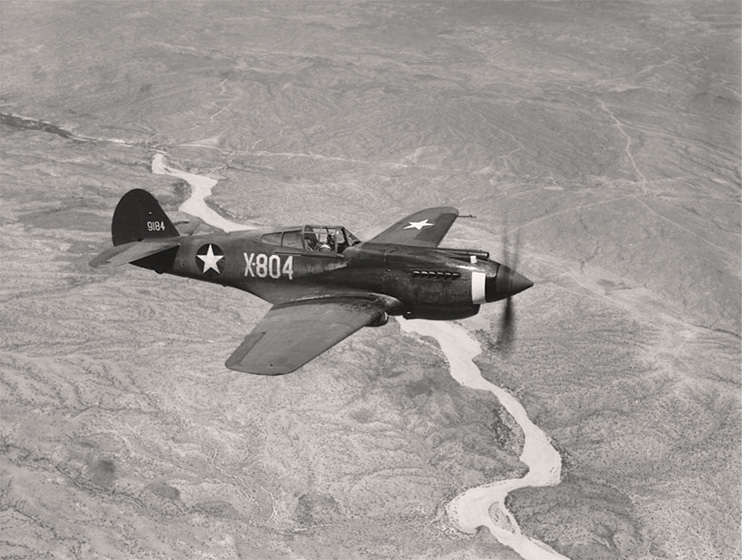 USAF Historical Research Agency - Larger Image


P-40 39-174

Though photographed at Lowry Field, Colorado in 1943, this Hawk was assigned to the
544th SEFTS at Luke. She had previously served with the 33rd Pursuit Squadron, 8th Pursuit
Group at Langley Field, Virginia in 1940. The tail of P-40M 43-5581 is visible on the right.
She served with the 57th Pursuit Squadron, 54th Pursuit Group at Harding Field, Louisiana.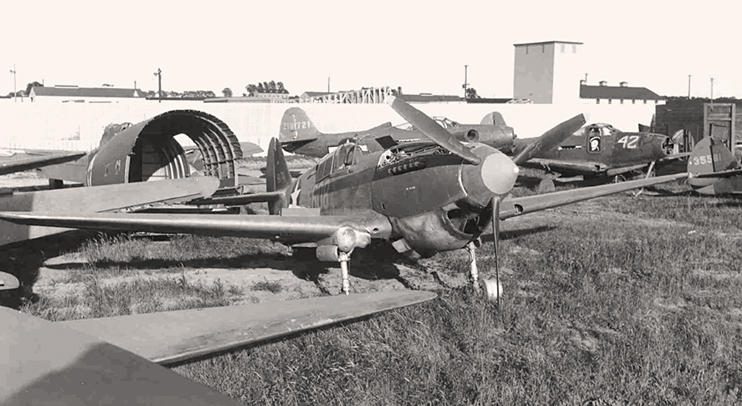 William T. Larkins photo - Larger Image


P-40 39-284

This ship from the 544th SEFTS was formerly assigned to the 58th PS, 33rd PG at Mitchel Field. It was involved
in at least three accidents throughout its service life, finally being sent to RFC at Cincinnatti on Jan 6, 1945.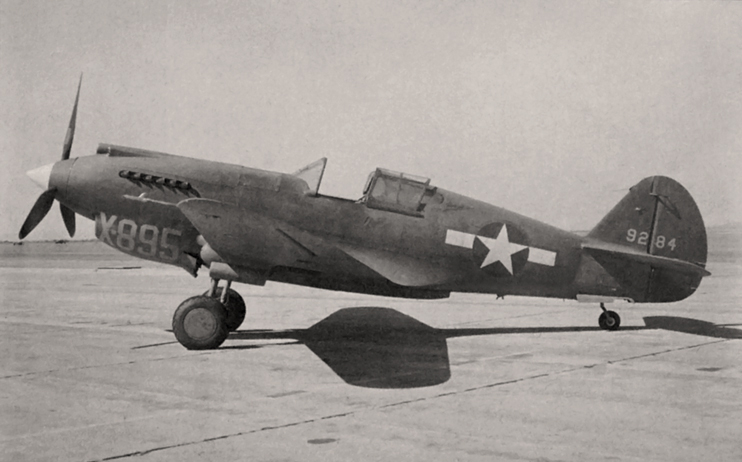 From: Unknown ish of Airpower/Wings - Larger Image


Oh, G!

This shot is something special for a couple'a reasons...
One, the ship is a P-40G. To say that photos of this variant are scarce is to make a monumental
understatement. Two, the guy behind the stick of this Hawk is none other than 'Mr. Conservative'
himself, future Arizona Senator and Republican Presidential nominee, Barry M. Goldwater.
This P-40 was destroyed on March 31st, 1943 when its pilot, Charles M. Travis Jr. of the 544th
SEFTS, bailed out about 5 miles East of Luke Field after the ship's engine caught fire.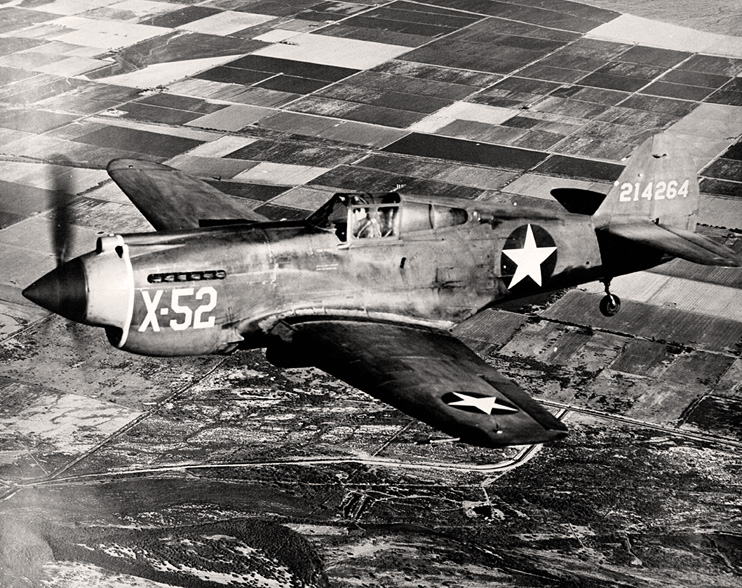 Arizona Historical Foundation via the 'Arizona Memory Project' website - Larger Image


Movie Stars...

Fifteen P-40Fs from the 554th FTS were used in the 1945 flick 'God Is My Copilot'.
This photo was taken during filming at Luke's auxiliary field #7. See more photos
of the P-40s involved and more information about this flick HERE...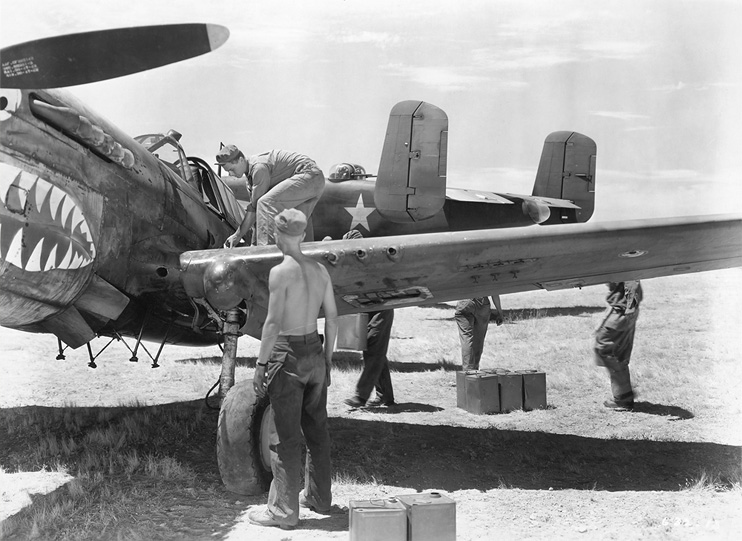 Project 914 Archives (S. Donacik collection) - Larger Image


Gypsy Rose Lee

Two P-40Ls from the 544th SEFTS on a training flight, circa 1943.
In the foreground is 42-11112, a P-40L-20-CU, later converted to a P-40R-2.
The other ship is 42-10698, a P-40L-5-CU.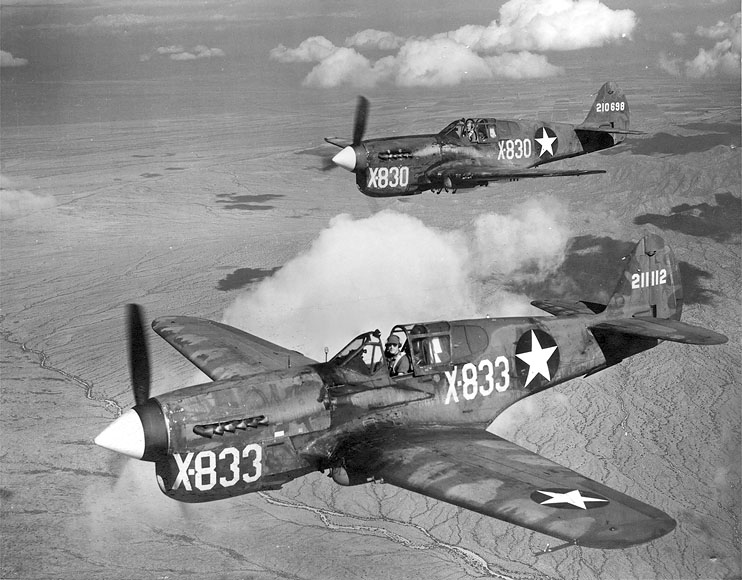 Project 914 Archives (S. Donacik collection) - Larger Image


42-11112 was involved in a few incidents during its lifetime...

July 2nd, 1943
Bellied-in at Luke due to mechanical failure.
Pilot was a Chinese trainee, Hsun Chiang Huang.
---
April 3rd, 1944
Type of incident is unknown, location was Olmsted Field, PA.
Pilot was William T. Perguson.
---
May 24th, 1944
Takeoff accident at Luke auxiliary field #1. Ship was totally destroyed.
Pilot was a Chinese trainee, Sheb-kwei Cheng.

42-10698 was involved in at least one incident...



August 27th, 1943
Forced landing at Luke due to engine failure.
Pilot was George A. McClung


Another view of 42-10698...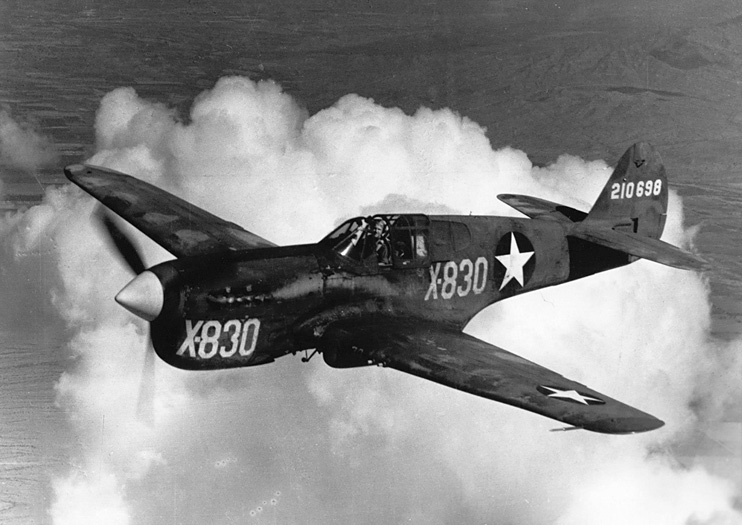 Pima Air & Space Museum - Larger Image


Shiny Hawk!

This P-40F, serial 41-14047, has been stripped of all paint... save its markings.
She was involved in two accidents while at Luke:
The first was a landing accident at Luke's auxiliary strip #1 on May 22nd, 1943 with
Chinese trainee Pen-Yung Kao of the 543rd SEFTS at the controls.
The second was a fatal crash on February 22nd, 1944... pilot Ernest I. Hoidal of the
544th SEFTS was killed when he spun in after a stall about 35 miles Northwest of Luke.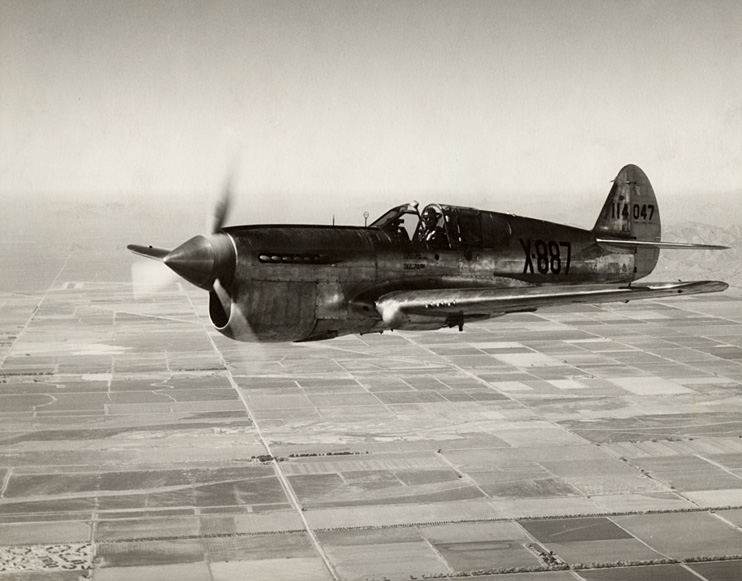 Project 914 Archives (S. Donacik collection) - Larger Image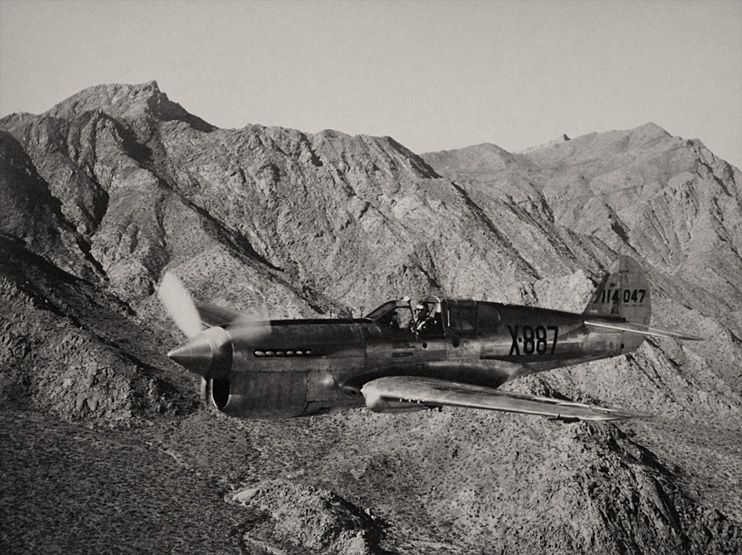 Project 914 Archives (S. Donacik collection) - Larger Image


Photo Opportunity

Here's a couple'a shots of the same P-40N with two different guys in the cockpit.
I've no idea who these fellas are... possibly they're some of the base personnel
who wanted to have their photos taken to send home to their family and/or sweethearts.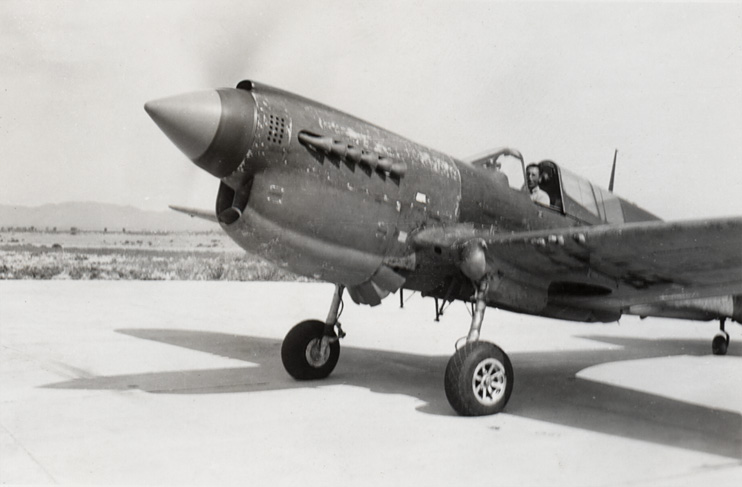 Project 914 Archives (S. Donacik collection) - Larger Image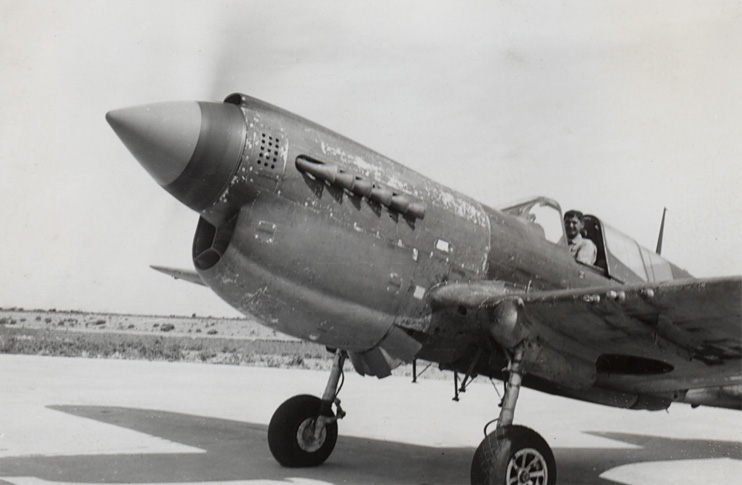 Project 914 Archives (S. Donacik collection) - Larger Image


Cruising in a Hawk

A pilot from the 544th SEFTS cruises along in Arizona skies. This P-40N, serial number
42-105429, was involved in two accidents... a taxiing mishap at Luke on December 15th,
1943 and another upon landing at Luke's auxiliary strip #1 on January 9th, 1944. In both
instances she was flown by a Chinese trainee; Shun-dien Chow in 1943 and Yao-Hwa Jen in 1944.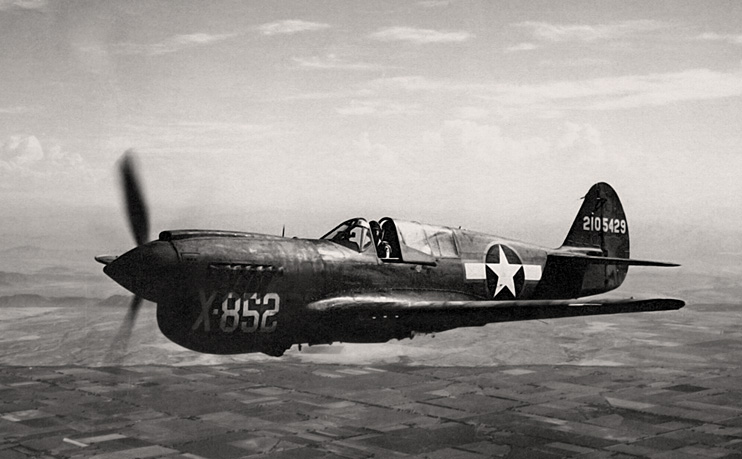 From: 'The P-40 Warhawk' - printed for the P-40 Warhawk Pilots Association by Turner Publishing - Larger Image


Prangggg

Here's P-40N serial 43-24000 of the 544th SEFTS after coming to grief at Luke on April 29th, 1944.
The pilot was a Chinese trainee by the name of Gwan-Choon Chen and the cause listed as 'Crash Belly
Landing due to Mechanical Failure'. I'll take a stab and say that the landing gear simply folded...
'twas a common enough problem with the 'ole Warhawk. Mind you, I'm just guessing, here.
Anyhoo, the 'ole gal was patched up and put back into the air, only to suffer another accident roughly
a year and a month later. This time an engine failure resulted in a belly-landing about ten miles South-
west of Wittman, Arizona on June 1st, 1945. By this time the SEFTS (Single Engine Flying Training
Squadron) was a thing of the past, and the USAAF's generic 'Base Unit' the thing of the day... so,
at the time of this second accident, this ship was with Luke's 3028th BU, and flown by another
Chinese pilot named Chung-Nian Yum. I'm not sure what happened to the Hawk after that.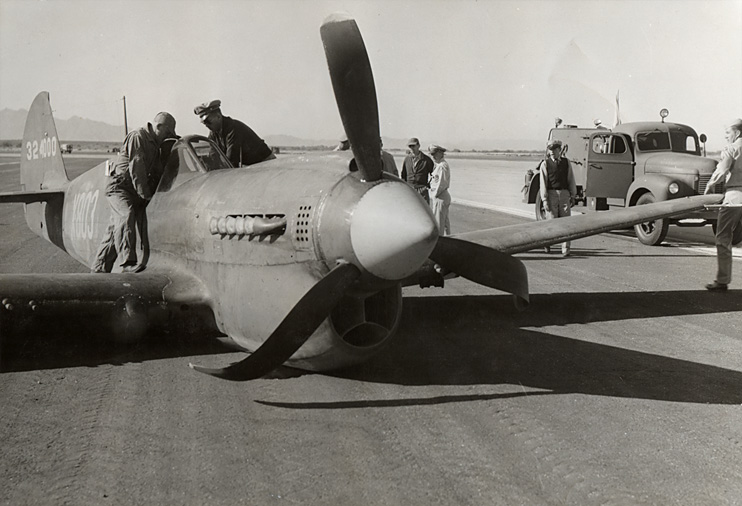 Project 914 Archives (S. Donacik collection) - Larger Image


---