P-40s at
Camp Sibert AAF, Alabama
---

The following is taken from the City of Attalla website, with permission:
Camp Sibert, primarily in Attalla, was situated in Etowah and St. Clair Counties, Alabama, as a
replacement training center for the Chemical Warfare Service by the Department of Defense between
1942 and 1944. The 37,034 acre site was used as a chemical warfare service training center until
April 1945. Training included such tasks as smoke screening, chemical decontamination, chemical depot
maintenance and chemical impregnation work. During training exercises, fuming sulfuric acid, or FS was
dropped on troops from airplanes to simulate an aerial mustard attack. After decontamination, the land
was transferred back to private ownership in 1948. The airfield, however, was transferred to the City of Gadsden.


---

Smoky Hawk

A P-40N equipped with a smoke generator wings past Camp Sibert, 1944...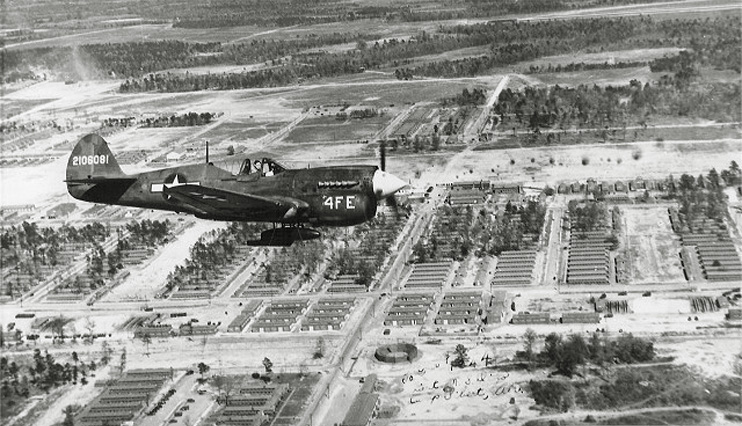 City of Attalla website


Hawks and Bombers
and Moving Vans, Oh My...

Two P-40Ns of the 378th Base Unit share space on the ramp at Camp Sibert with another Curtiss
bird... an A-25, the USAAF version of the Navy's SB2C Helldiver, a couple'a B-25s, an A-20, and a C-47.
Another type operated at Camp Sibert was the A-24, USAAF version of the Navy's SBD Dauntless.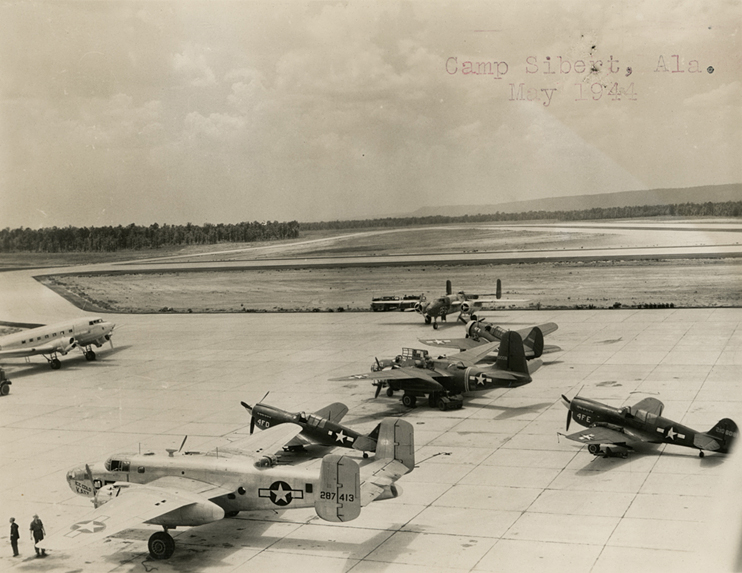 The Museum of Flight (Lloyd R. Lyckman Collection) - Larger Image


It's a shame that this Hawk's r/c number is not visible, because she looks to be a
P-40N-5 or later, with the revised 'greenhouse' behind the cockpit, but has the earlier
'bird cage' sliding canopy that was standard on all Model 87s up to the P-40N-1.
Another interesting detail... looks like there's a camera port on the fuselage, where the left
bar of the national insignia meets the disc and star. Same for the other Hawk in the photo.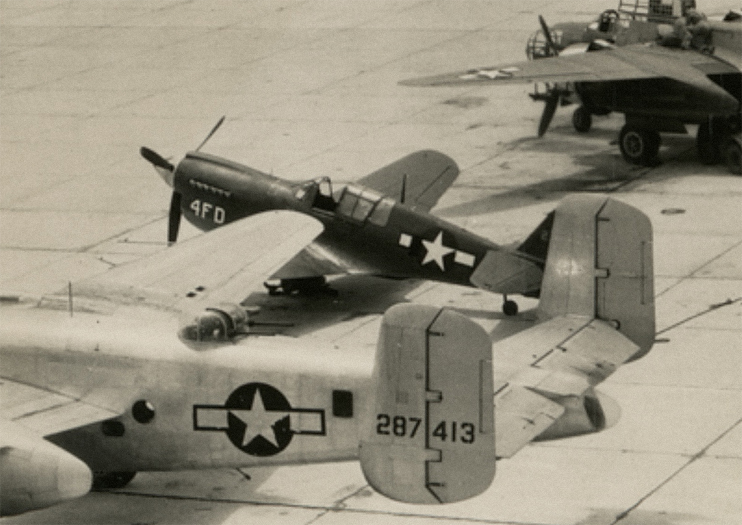 The Museum of Flight (Lloyd R. Lyckman Collection) - Larger Image


P-40N 42-106081... this is the same ship shown in the air to air shot at the top of the page.
Two months after this photo was taken, on July 25th, 1944, this Hawk was involved in a midair
collision. I'm not sure of the exact circumstances, but I believe the collision may have taken
place on takeoff from Camp Sibert. The pilot, Walter K. Myszkowski, apparently survived.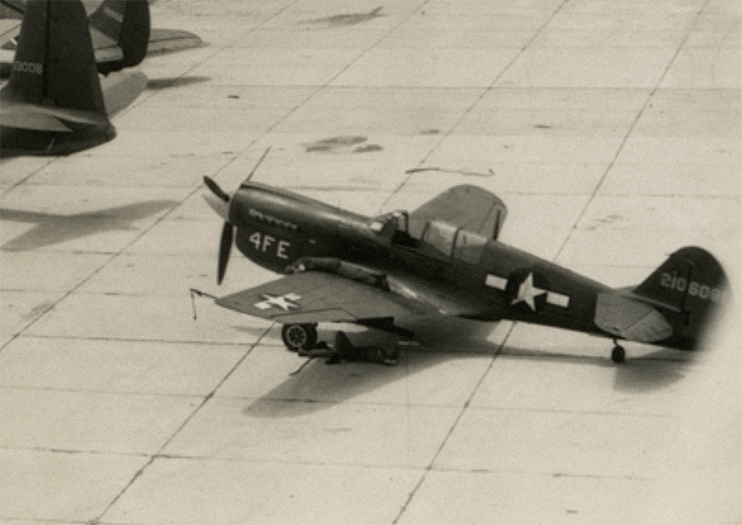 The Museum of Flight (Lloyd R. Lyckman Collection) - Larger Image


---