8th Fighter Group

33rd Fighter Squadron || 35th Fighter Squadron || 36th Fighter Squadron

---
From '
Air Force Combat Units of World War II
':
---
Authorized on the inactive list as 8th Pursuit Group on 24 March 1923. Activated on 1 April 1931.

Redesignated 8th Pursuit Group (Fighter) in 1939, and 8th Pursuit Group (Interceptor) in 1941. Trained,

took part in maneuvers and reviews, and tested planes and equipment, using PB-2, P-6, P-12, P-35, P-36,

P-39, and P-40 aircraft prior to World War II. In December 1941, became part of the defense force for the

New York metropolitan area. Moved to the Asiatic-Pacific Theater early in 1942. Redesignated 8th Fighter

Group in May 1942. Became part of Fifth AF. Equipped first with P-39s, added P-38s, and P-40s in 1943,

and used P-38s after May 1944.

Established headquarters in Australia in March 1942 but sent detachments to New Guinea for operations.
Moved to New Guinea in September 1942 and served in combat until malaria forced the organization to
withdraw to Australia in February 1943. Resumed operations in April 1943 and served in the theater through
the rest of the war. Covered Allied landings, escorted bombers, and attacked enemy airfields in New Guinea;
supported operations of the US Marines at Cape Gloucester, February-March 1944; flew long-range escort and
attack missions to Borneo, Ceram, Halmahera, and the southern Philippines; provided cover for convoys,
attacked enemy shipping, and won a DUC for strafing a strong Japanese naval force off Mindoro (26 December
1944); covered landings at Lingayen; supported ground forces on Luzon; escorted bombers to targets on the
Asiatic mainland and on Formosa; and, in the last days of the war, attacked airfields and railways in Japan.
Remained in the theater after V-J Day, being based in Japan for duty with the Far East Air Forces.


Squadrons

33rd: 1932-1941
35th: 1932-
36th: 1931, 1932-
55th: 1931-1932
68th: 1945-1947
80th: 1942-1945


Stations

Langley Field, Virginia, 1 April 1931
Mitchel Field, New York, 5 November 1940 - 26 January 1942
Brisbane, Australia, 6 March 1942
Townsville, Australia, 29 July 1942
Milne Bay, New Guinea, 18 September 1942
Mareeba, Australia, February 1943
Port Moresby, New Guinea, 16 May 1943
Finschhafen, New Guinea, 23 December 1943
Cape Gloucester, New Britain, 20 February 1944
Nadzab, New Guinea, 14 March 1944
Owi, Schouten Islands, 17 June 1944
Morotai, 19 September 1944
San Jose, Mindoro, 20 December 1944
Ie Shima, 6 August 1945
Fukuoka, Japan, 22 November 1945


Commanders

Unknown 1931-1932
Major Byron Q. Jones, 25 June 1932
Captain Albert M. Guidera, 31 March 1934
Lt.Col. Adlai H. Gilkeson, 1 July 1935
Lt.Col. William E. Kepner, 7 July 1938
Lt.Col. Edward M. Morris, 1 February 1940
Lt.Col. Frederic H. Smith Jr., 17 January 1941
Lt.Col. William H. Wise, 22 May 1942
Lt.Col. Leonard B. Storm, 8 March 1943
Lt.Col. Philip H. Greasley, 10 April 1943
Lt.Col. Emmett S. Davis, 18 January 1944
Lt.Col. Philip H. Greasley, 28 June 1944
Colonel Earl H. Dunham, 8 August 1944
Lt.Col. Emmett S. Davis, 16 June 1945
Lt.Col. Robert L. Harriger, December 1945


Campaigns

East Indies
Air Offensive, Japan
China Defensive
Papua
New Guinea
Bismarck Archipelago
Western Pacific
Leyte
Luzon
Southern Philippines


Decorations

DUC - Papua, September 1942 - 23 January 1943
DUC - Philippine Islands, 26 December 1944



Note: All above information pertains to this unit's activities up to 1945.
Any subsequent activity from 1946 onward is not included.



Fair-Weather Hawks

P-40s of the 33rd PS head up the 8th PG line at Langley Field on a beautiful day in 1940.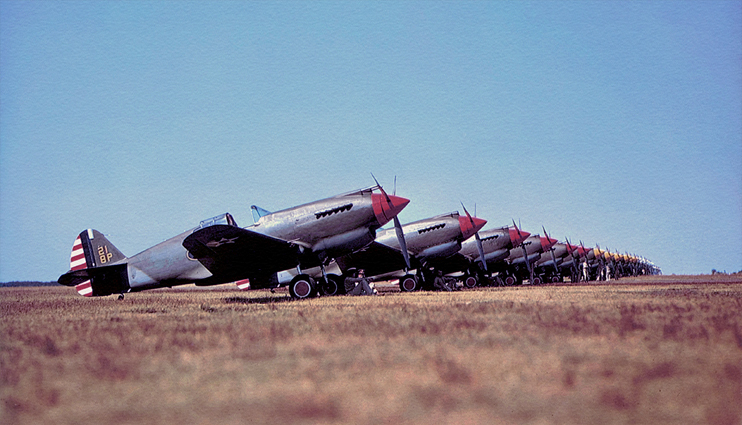 Project 914 Archives - Larger Image



The Cadets and the Hawk

Cadets from West Point inspect a P-40 of the 8th Pursuit Group on June 17th, 1940.
The 8th took delivery of its first P-40s that same month, so this was a brand new ship.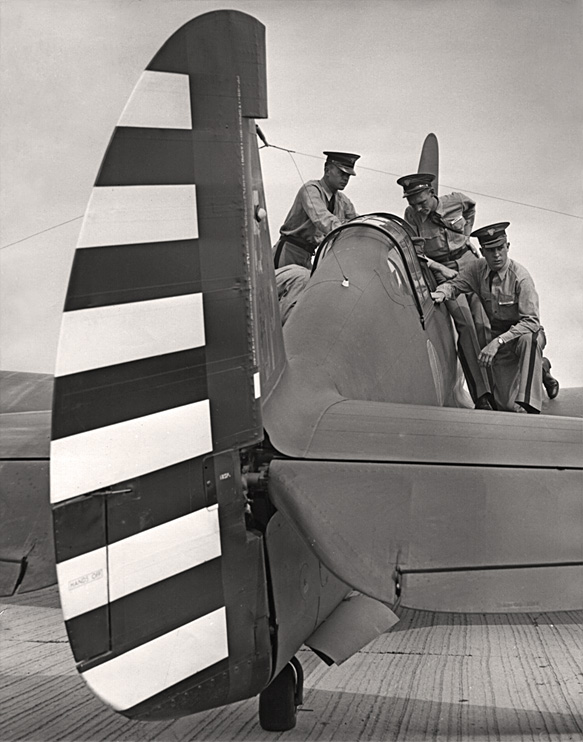 Project 914 Archives (S.Donacik collection) - Larger Image


Boss Hawks

A couple'a P-40s from the 8th Pursuit Group HQ flight at Langley Field, 1940.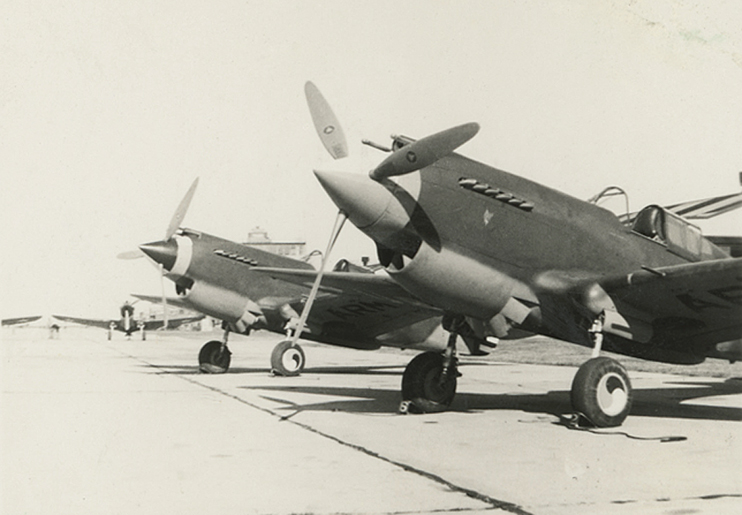 Museum of Flight (James C. Stewart Collection) - Larger Image


Another view of the second Hawk from the camera in the above photo.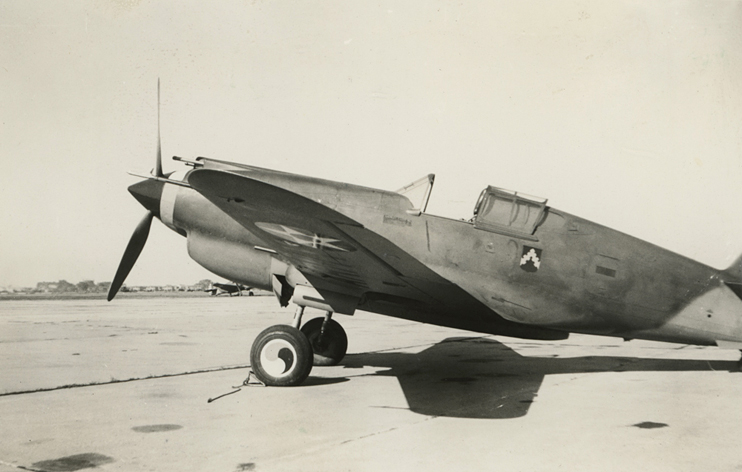 Museum of Flight (James C. Stewart Collection) - Larger Image


Talons, Panthers, and a White-Nosed Hawk

An interesting group shot showing a buncha 8th Pursuit Group pilots, some of whom have
33rd and 35th Pursuit Squadron patches on their jackets and overalls, with a P-40 from the
36th Pursuit Squadron. This photo comes from the collection of James C. Stewart, seen
here standing on the far right. Stewart would later serve in the ETO with the
61st Fighter Squadron, 56th Fighter Group, scoring 11.83 victories.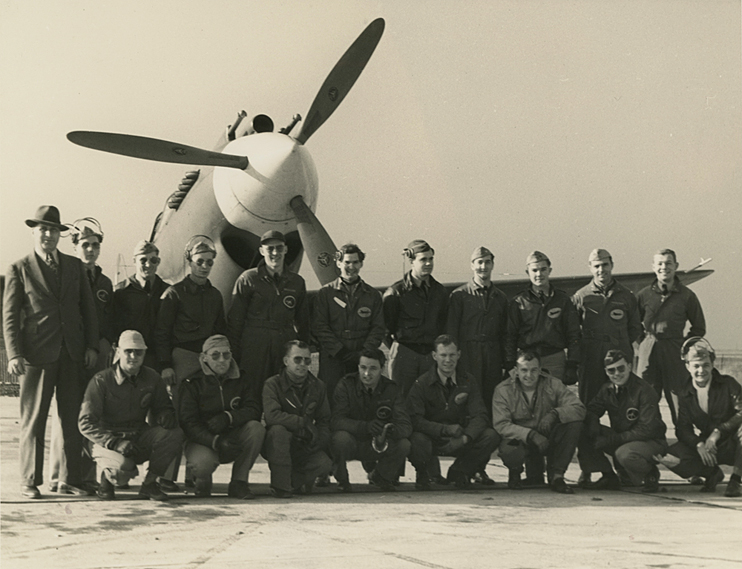 Museum of Flight (James C. Stewart Collection) - Larger Image


Cavorting Hawk

A super-freakin-groovy shot of ship #4 from the HQ flight.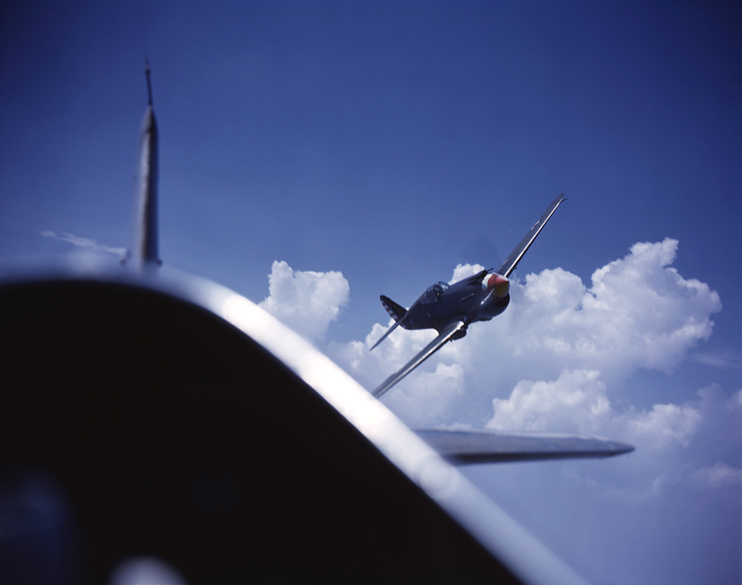 National Air and Space Museum (Hans Groenhoff photo) - Larger Image


A closer look...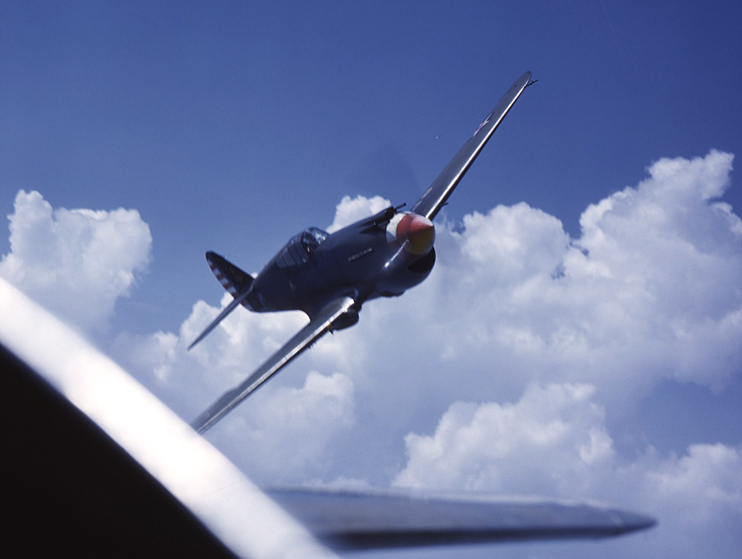 National Air and Space Museum (Hans Groenhoff photo) - Larger Image


The 8th Joins the Navy

In October of 1940, twenty-four P-40s of the 8th Pursuit Group and nine O-47As of the
2nd Observation Squadron were taken aboard USS Wasp (CV-7) at Norfolk, VA. The carrier
steamed out to sea and the Army birds flew off in what has been described as "a test designed
to compare the take-off runs of standard Navy and Army aircraft". It's this writer's opinion
that someone somewhere in the US Army and/or Navy knew that the USA was going to get into
the European war one way or another, and wanted to see if Army aircraft could be transported
across the world and flown into the fray from the decks of the Navy's aircraft carriers.
Whatever the case, this was the first time Army planes had flown from a flattop.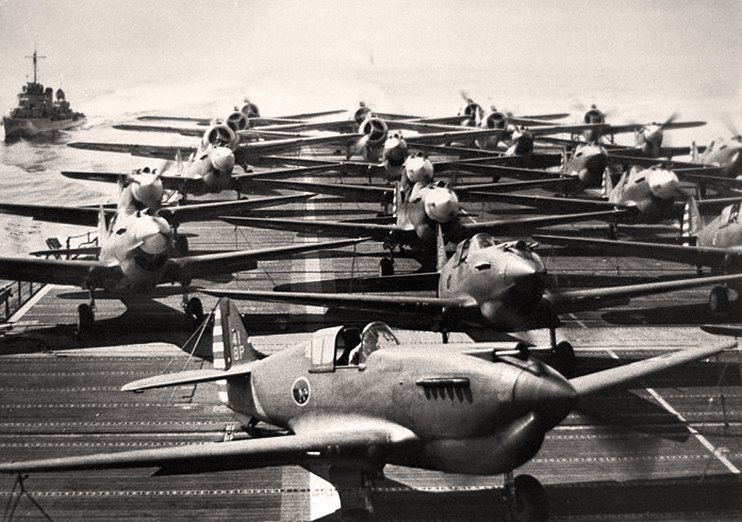 San Diego Air & Space Museum (Ray Wagner collection) - Larger Image


Cold-Weather Hawks

Line-up of 8th PG P-40s on a wintery day in late 1940 or early 1941.
First in line is ship #4 from the HQ flight. Second and fourth in line are white-nosed Hawks
from the 36th PS, while the other two ships look to be from the 33rd Pursuit Squadron.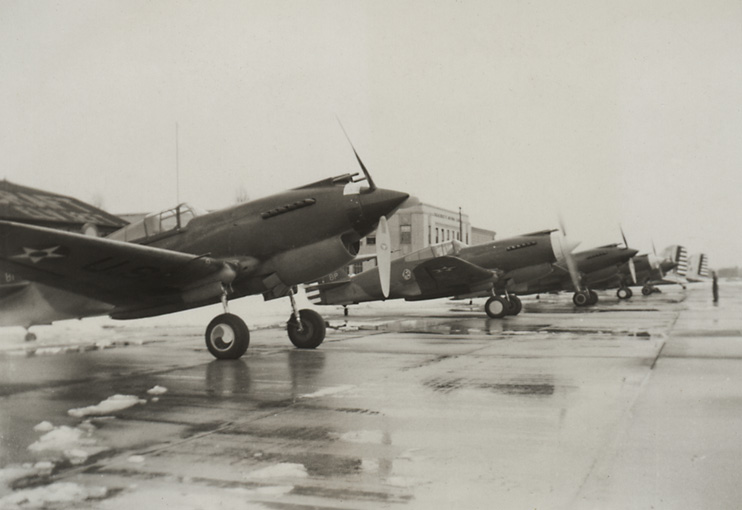 Project 914 Archives (S.Donacik collection) - Larger Image


Another view of the HQ ship...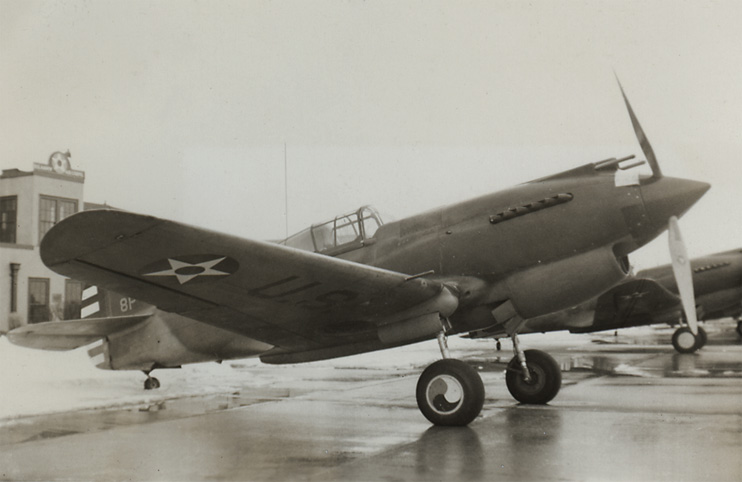 Project 914 Archives (S.Donacik collection) - Larger Image


Hawk on Show

This P-40 was displayed during a National Defense exhibit at Commerce Square, Washington DC
in July of 1941. The plane-in-group number of '89' indicates the 36th Pursuit Squadron, but other
details are inconsistent with a 36th ship, such as the dark-colored nose. A ship from the 36th would
have had a white nose. Matter of fact, it looks like this ship may have had a multi-colored nose, with
evidence of repainting. (Perhaps a former 8th PG HQ ship?) Army aviation markings were changing
at this time, with some markings being removed or altered to lower visibility or for security purposes;
note the large light-colored patch under the rear quarter glass, where a squadron (or possibly group)
emblem has been painted over. Also, Army aircraft put on public display were sometimes repainted,
often in either spurious or nondescript markings. In addition, ships were sometimes transferred
between squadrons as dictated by circumstance. So, take all of this into consideration and
there are a few possible reasons for the apparent markings discrepencies seen here.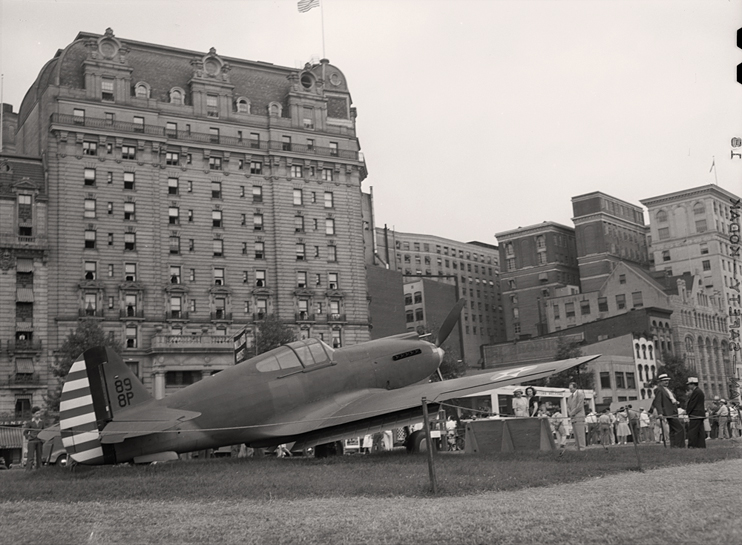 Library of Congress FSA/OWI Collection (Martha McMillan Roberts photo) - Larger Image


---