31st Fighter Group

39th Pursuit Squadron || 40th Pursuit Squadron || 41st Pursuit Squadron

307th Fighter Squadron || 308th Fighter Squadron || 309th Fighter Squadron



---
From '
Air Force Combat Units of World War II
':
---
Constituted as 31st Pursuit Group (Interceptor) on 22 December 1939. Activated on 1 February 1940.

Trained with P-39s (and P-40s, webmaster) and participated in maneuvers. Redesignated 31st Fighter

Group in May 1942. Moved to England, May-June 1942. Assigned to Eighth AF and equipped with Spitfires.

Entered combat in August 1942. Supported a raid made by Canadian, British, American, and French forces

at Dieppe on 19 August. Escorted bombers and flew patrol and diversionary missions until October.

Assigned to Twelfth AF for the invasion of North Africa, the pilots of the group flying Spitfires from

Gibralter to Algeria on 8 November 1942 and the ground echelon landing at Arzeu beach the same day.

Attacked motor transports, gun positions, and troop concentrations during the three-day campaign for

Algeria and French Morocco. Helped to defeat Axis forces in Tunisia by supporting ground troops and

providing cover for bomber and fighter aircraft. During May and June 1943, provided escort for bomb-

ers on raids to Pantelleria and cover for naval convoys in the Mediterranean. Supported the landings

on Sicily in July and took part in the conquest of that island. Covered the landings at Salerno early

in September 1943 and at Anzio in January 1944. Also operated in close support of Allied ground forces

in Italy and flew patrol and escort missions.

Assigned to Fifteenth AF in April 1944, converted to P-51s, and thereafter engaged primarily in escort
work. Received a DUC for a mission on 21 April 1944 when the group, despite the severe weather that was
encountered, provided cover for a force of heavy bombers during a raid on production centers in Rumania.
On numerous other occasions escorted bombers that attacked objectives in Italy, France, Germany, Poland,
Czechoslovakia, Austria, Hungary, Bulgaria, Rumania, Yugoslavia, and Greece. In addition provided escort
for reconnaissance aircraft and for C-47s engaged in the airborne operation connected with the invasion
of Southern France. Also flew strafing missions against airdromes and communications targets. Took part
in an operation in which a task force from Fifteenth AF attacked targets in Rumania while flying to Russia
on 22 July 1944 and while returning to Italy on 26 July; on 25 July, after escorting P-38s from a base in
Russia for a raid on an airdrome in Poland, the 31st group made attacks on a convoy of German trucks and
on a force of German fighter-bombers, being awarded a DUC for its performance. Strafed rail and highway
traffic in northern Italy in April 1945 when Allied forces were engaged in their final offensive in that
area. Returned to the US in August. Inactivated on 7 November 1945.


Squadrons

39th: 1940-1942
40th: 1940-1942
41st: 1940-1942
307th: 1942-1945
308th: 1942-1945
309th: 1942-1945


Stations

Selfridge Field, Michigan, 1 February 1940
Baer Field, Indiana, 6 December 1941
New Orleans AB, Louisiana, February - 19 May 1942
Atcham, England, 11 Jun 1942
Westhampnett, England, 1 August 1942
Tafaraoui, Algeria, 8 November 1942
La Senia, Algeria, circa 12 November 1942
Thelepte, Tunisia, circa 7 February 1943
Tebessa, Algeria, 17 February 1943
Youks-les-Bains, Algeria, 21 February 1943
Kalaa Djerda, Tunisia, circa 25 February 1943
Thelepte, Tunisia, 11 March 1943
Djilma, Tunisia, 7 April 1943
Le Sers, Tunisia 12 April 1943
Korba, Tunisia, 15 May 1943
Gozo (Malta, webmaster), circa 30 June 1943
Ponte Olivo, Sicily, circa 13 July 1943
Agrigento, Sicily, 21 July 1943
Termini, Sicily, 2 August 1943
Milazzo, Sicily, 2 September 1943
Montecorvino, Italy, 20 September 1943
Pomigliano, Italy, 14 October 1943
Castel Volturno, Italy, 19 January 1944
San Severo, Italy, 2 April 1944
Mondolfo, Italy, 3 March 1945
Triolo Airfield, Italy, 15 July - August 1945
Drew Field, Florida, 7 August - November 1945


Commanders

Lt.Col. Harold H. George, Feb 1940
Colonel John R. Hawkins, 1 July 1941
Colonel Fred M. Dean, 5 December 1942
Lt.Col. Frank A. Hill, circa July 1943
Colonel Charles M. McCorkle, circa September 1943
Colonel Yancey S. Tarrant, 4 July 1944
Colonel William A. Daniel, 4 December - unknown


Campaigns

Air Combat, EAME Theater
Air Offensive, Europe
Algeria-French Morocco
Tunisia
Sicily
Naples-Foggia
Anzio
Rome-Arno
Normandy
Northern France
Southern France
North Apennines
Rhineland
Central Europe
Po Valley


Decorations

DUC - Rumania, 21 April 1944
DUC - Poland, 25 July 1945



Note: All above information pertains to this unit's activities up to 1945.
Any subsequent activity from 1946 onward is not included.



Brass Hawk


P-40 #4 of the 31st Pursuit Group's HQ flight over Selfridge Field, 1940.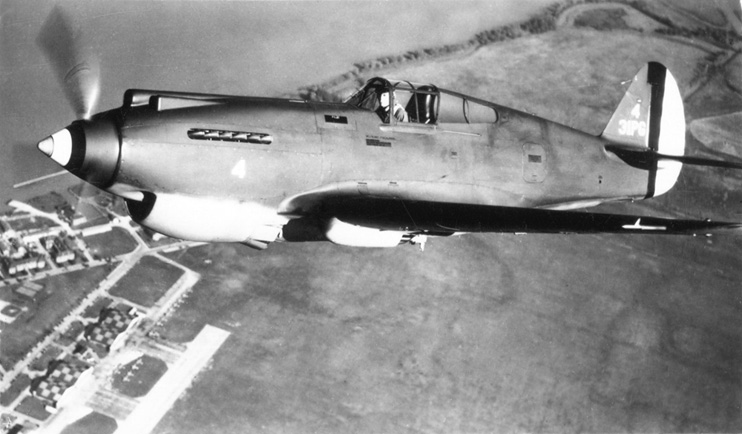 Project 914 Archives (S.Donacik collection) - Larger Image


In Mixed Company

Your webmaster came across this print on epay sometime back, and it was the A-18 that first
caught my eye. (Take a closer look at that ship HERE.) I'd almost decided to pass it by, but,
although the auction image was quite small and not much aside from the B-25 and Shrike
could be seen clearly, I had a hunch... one of the voices in my head said, "Take a chance".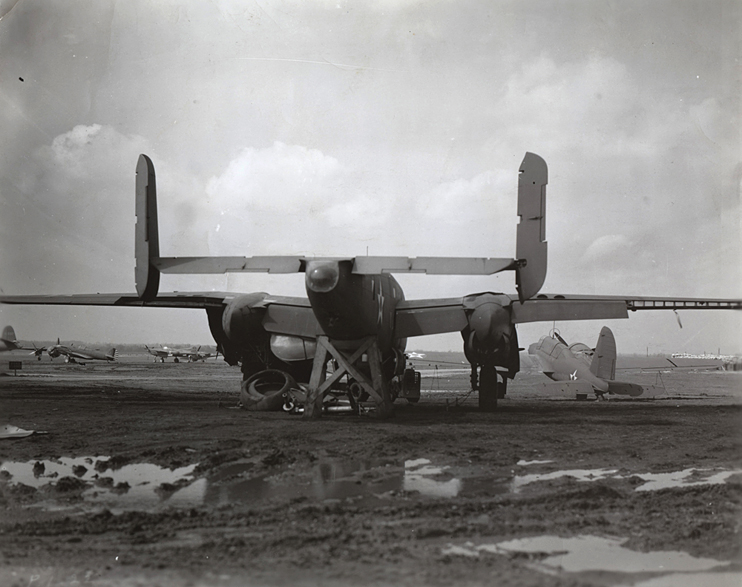 Project 914 Archives (S.Donacik collection) - Larger Image


Well, when the print arrived, lookee-lookee what popped outta the background.
Other than the P-40, two B-26s, a P-38 of the 1st PG, and a Vultee Vengeance can be seen. There's
a sixth bird in there, too, but only the wheels and prop are visible behind the tarp that's covering
the B-25's port engine. I dunno what kinda bird it is; I'm kinda-sorta thinking it might be another
Vengeance, but am simply not sure yet. Maybe more photos of this scene will surface in the future.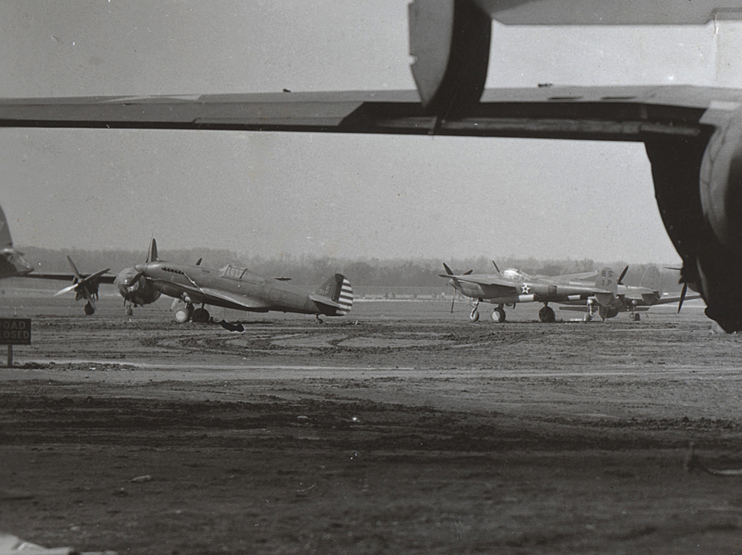 Project 914 Archives (S.Donacik collection) - Larger Image


Anyhoo, a closer look reveals that this is ship #2 of the 31st Pursuit Group's HQ flight.
At the moment I have no idea as to the date or location of the photo, but I'm workin' on it.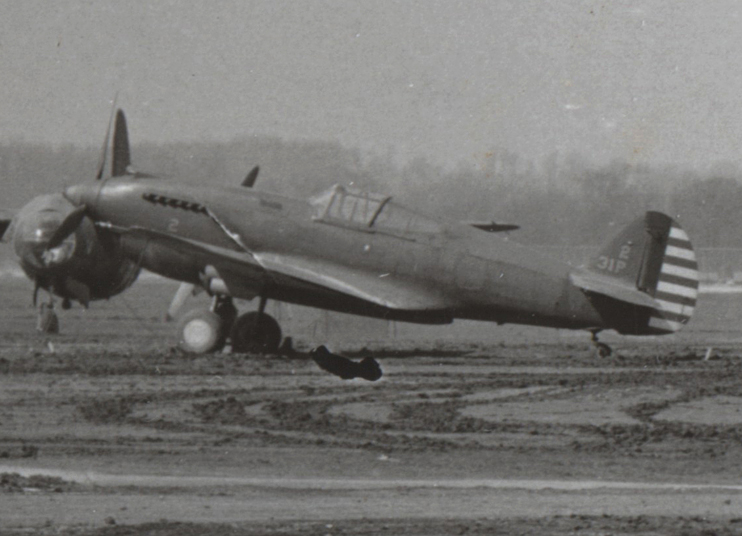 Project 914 Archives (S.Donacik collection) - Larger Image


P-40 #40 Four For the Boss of the 40th

The 40th Pursuit Squadron commander's ship at Selfridge Field, 1940.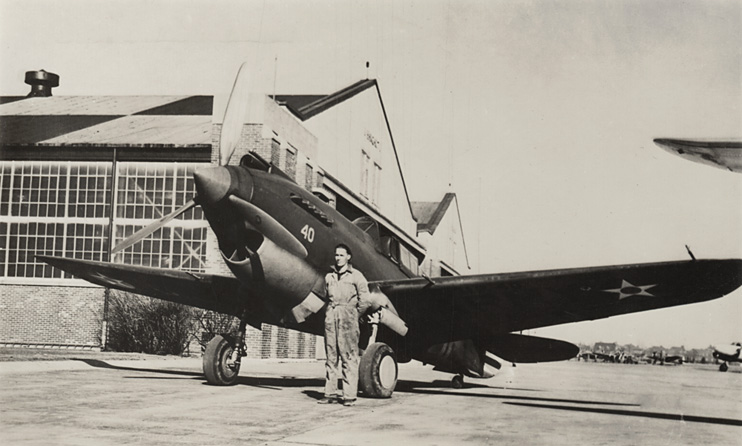 Project 914 Archives (S.Donacik collection) - Larger Image


Another view of #40, this time in flight over what I'm guessing is the city of Detroit.
Mounted on the nose is what I believe to be a motion picture camera in a streamlined pod.
(After looking more closely, I noticed that it's also shown in the above photo.)
Perhaps it's a temporary gun camera setup used for training purposes? I dunno for sure...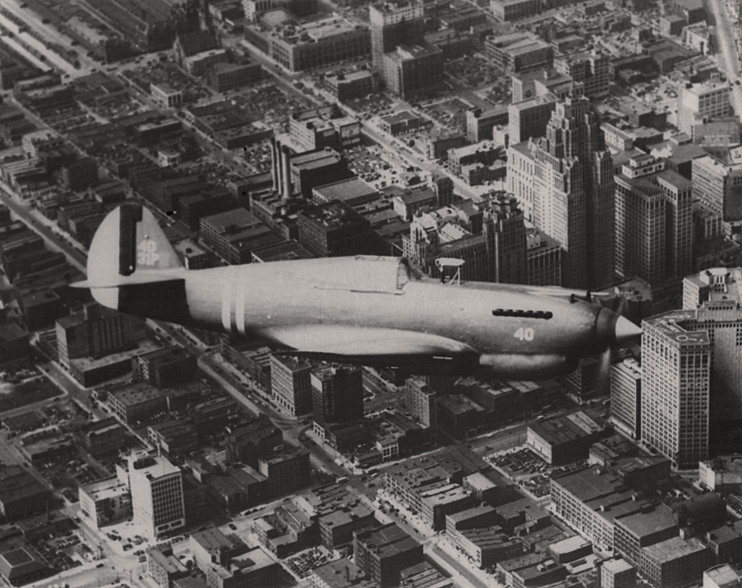 Project 914 Archives (S.Donacik collection) - Larger Image


Making Movies...?

The next two photos show P-40 #59 from the 40th PS at an unknown location.
And lookee-lookee... there's one of those cameras again...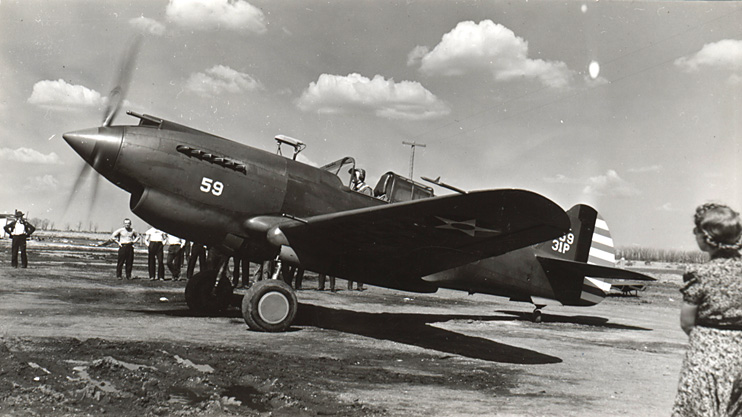 Project 914 Archives (S.Donacik collection) - Larger Image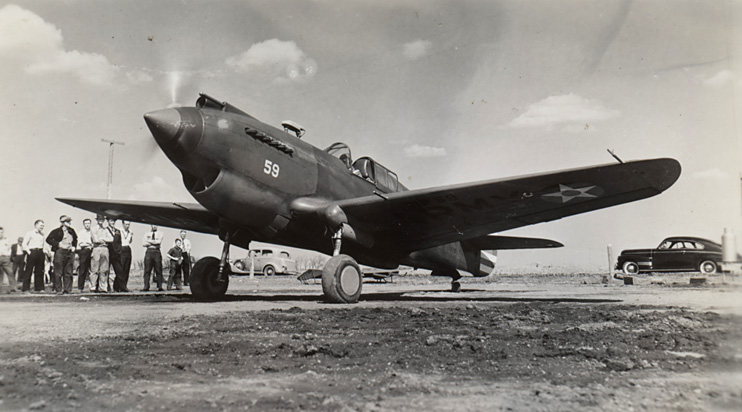 Project 914 Archives (S.Donacik collection) - Larger Image


Put'er There!!

Seven members of the 40th Pursuit Squadron, a civvie, P-40 #6_, and...
Oh, hey, look! It's yet another of those camera setups...
Left to right: Lt. Zins, Lt. Elliot, Capt. Albert P. Clark (40th PS CO), a Curtiss
representative, Lt. S.M. Smith, Lt. Frank Hill, Lt. McGary, and an unknown officer.
Captain Clark deployed with the 31st FG to England, was shot down during the Dieppe operation,
taken prisoner, and sent to Stalag Luft III. Post-war he made a career in the Air Force, ultimately
reaching the rank of Lieutenant General. He also wrote a book about his wartime experiences titled,
'33 Months as a POW in Stalag Luft III'. General Clark went West in 2010 at the grand 'ole age of 96.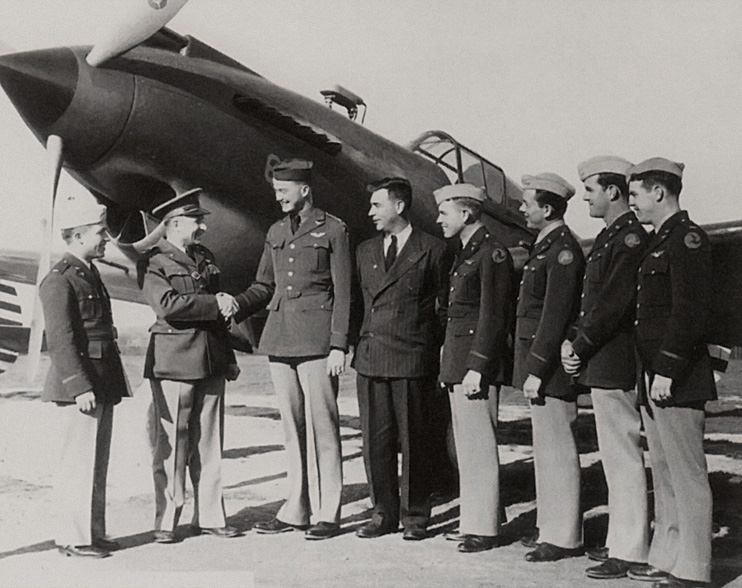 From: American Spitfire Camouflage and Markings by Ludwig/Laird (A.P.Clark) - Larger Image


Getting the Pictures

This Hawk holds a camera of a different sort. P-40 #57 of the 40th Pursuit Squadron
was modified to carry a Fairchild K-3B camera, presumably for aerial photo-reconnaissance.
I am not sure as to whether or not this ship is the sole P-40A; the info I have indicates
that the P-40A was indeed made from an initial-production P-40 (serial 40-326) such as
the one seen here, but that the modification took place at Bolling Field in Washington,
DC during March of 1942, whereas this photo was taken on April 21st, 1941.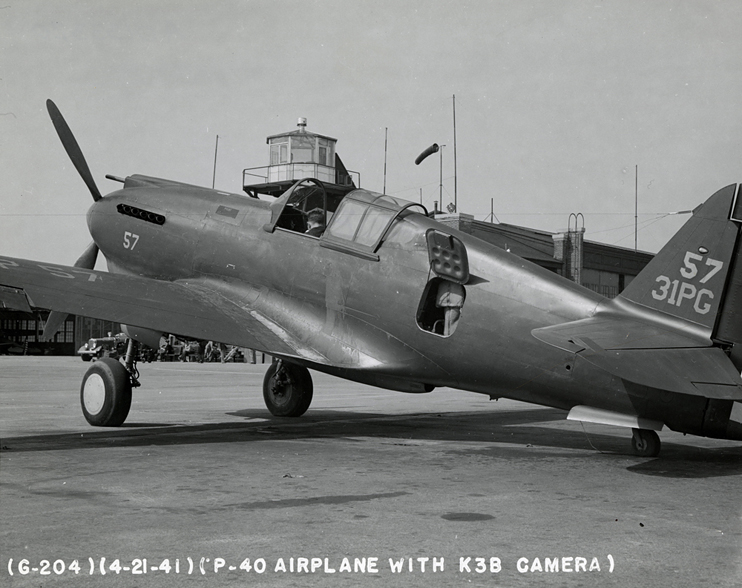 NASM - Larger Image


A closer look at the camera installation...
I've not researched this, and know fairly little about photo-recon schtuff... I'm
wondering why the camera is inside of what appears to be an insulated lining of some
sort. An attempt at temperature control? Or a measure to limit light contamination?
Whatever the case, the camera itself is not visible. Soooo... take a looksee HERE...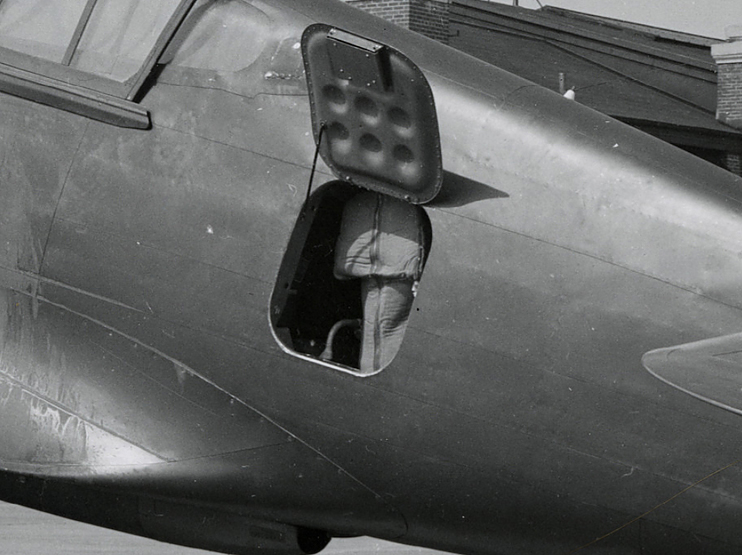 NASM - Larger Image


Rebuilding the 31st

1Lt. Harrison Thyng at New Orleans in 1942 with some 309th PS P-40Bs in the background.
This was after the original three squadrons of the 31st were re-assigned to the 35th PG,
and three new squadrons, the 307th, 308th, and 309th, were created to take their place.
Thyng deployed overseas as CO of the 309th and was officially credited with five victories while
flying Spitfires. He also flew F-86s during the Korean War and was again officially credited
with five kills, making him one of only six USAF pilots to make 'ace' in two wars.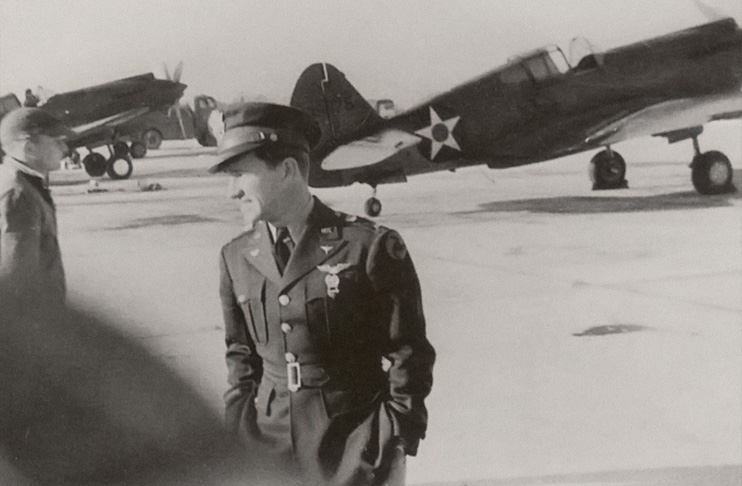 From: American Spitfire Camouflage and Markings by Ludwig/Laird (Groseclose) - Larger Image


---