The Curtisschmitt

---

This Messerschmitt Bf 109E-4/N, Werknummer 1190, was piloted by Unteroffizier Horst Perez
of 4. Staffel JG26 on September 30th, 1940 when it was brought down near East Dean, West Sussex
after combat with Spitfires of 92 Squadron RAF. The aircraft was eventually toured around England
and North America, displayed at war bond rallies and the like, to raise both funds and morale.
She survives today in the collection of the Imperial War Museum, and is on display at Duxford.


At least half a dozen fellas from Curtiss are seen unloading 1190 from a trailer in this photo,
quite possibly taken here in Buffalo, NY during the Messerschmitt's tour around North America.
When I first saw this photo, my first inclination was to dub this 109 the 'Curtisschmitt'.
EDIT: It's also possible that this photo was taken in Canada... Toronto, maybe?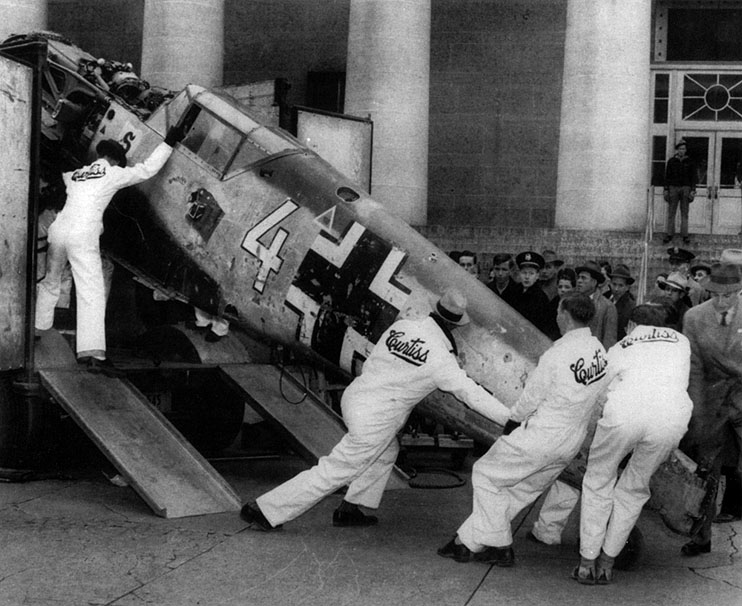 Project 914 Archives - Larger Image


This photo shows 1190 under guard at the spot where she came down, prior to collection by the RAF.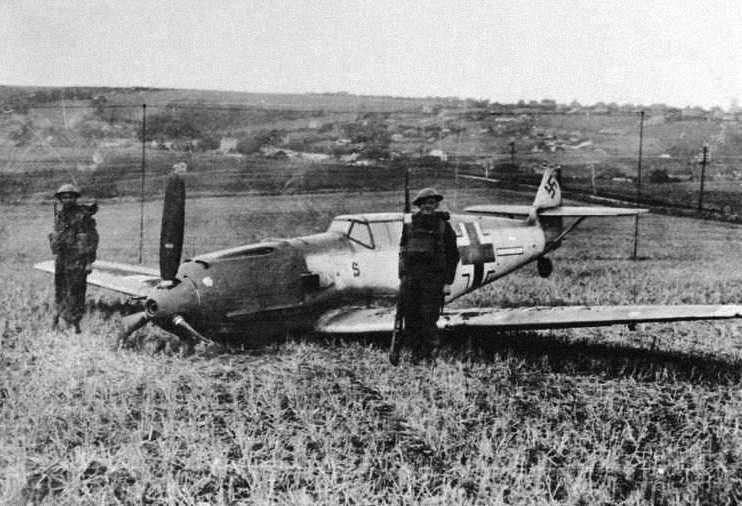 Project 914 Archives


This painting by Michael Turner, entitled 'Hande Hoch' (German for 'hands up'), depicts the
moment of Uffz Perez's capture by Police Constable Walter Hyde and members of the Home Guard.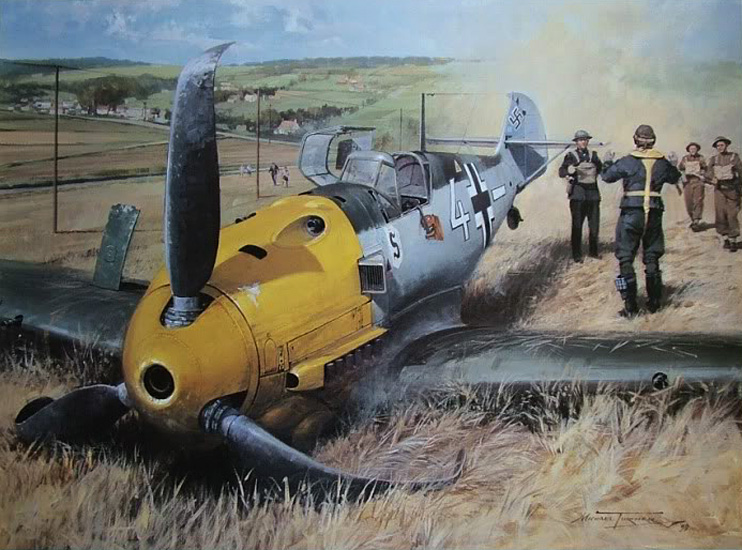 Artist's Website


This photo was taken during one of the many rallies and other events at which 1190 was displayed.
The date and location are unknown.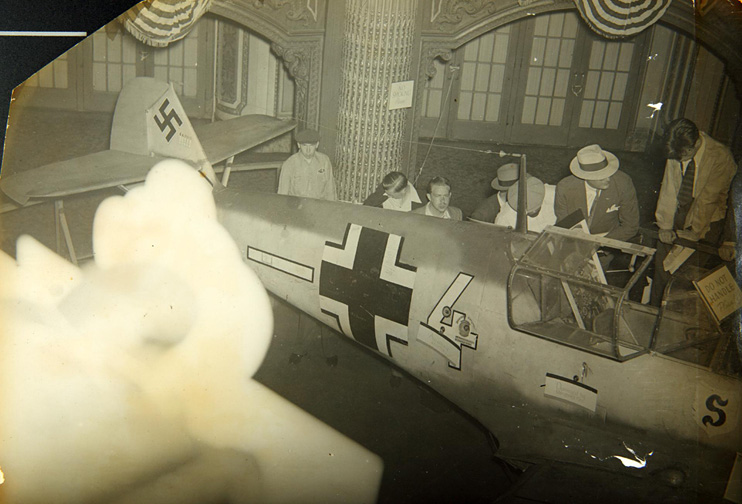 San Diego Air & Space Museum Archives - Larger Image


Another photo of 1190 taken during a fund-raising event to benefit 'Bundles for Britain'.
The location is Washington D.C., the date July 12th, 1941, and the folks viewing the plane
are, from left to right, Casey Walters, director of the exhibit, and Lady and Lord Halifax.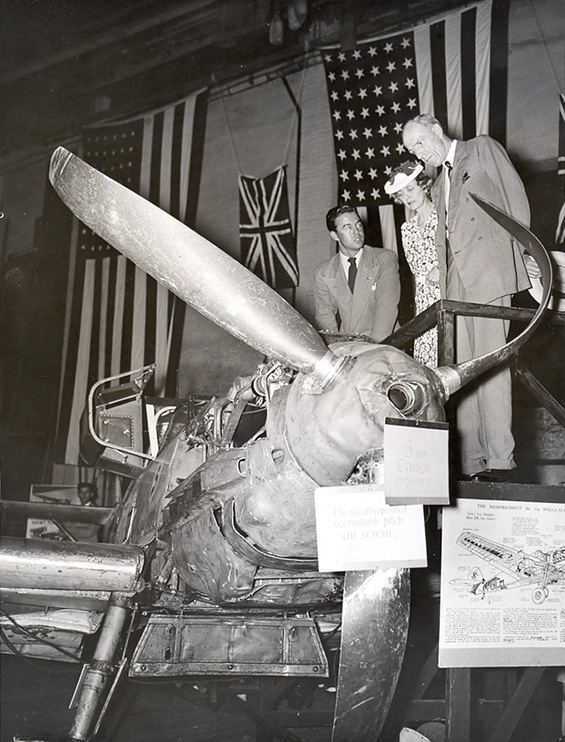 Project 914 Archives - Larger Image


The following photos show 1190 as she currently appears on display at IWM Duxford.



Claire Parfrey photo - Larger Image
More of Claire's photos can be seen HERE...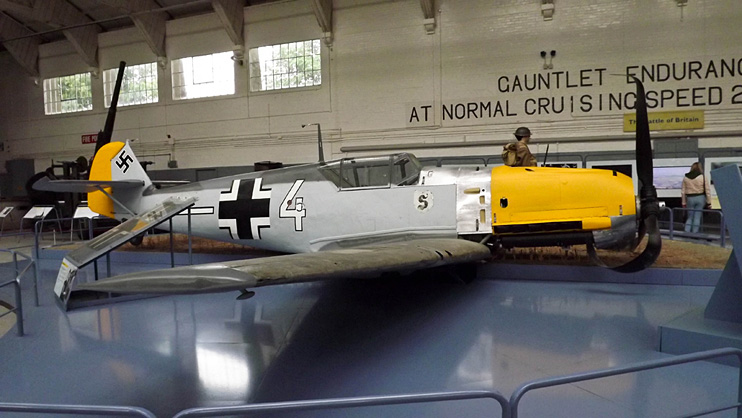 Alana Cowell photo - Larger Image
More of Alana's photos can be seen HERE...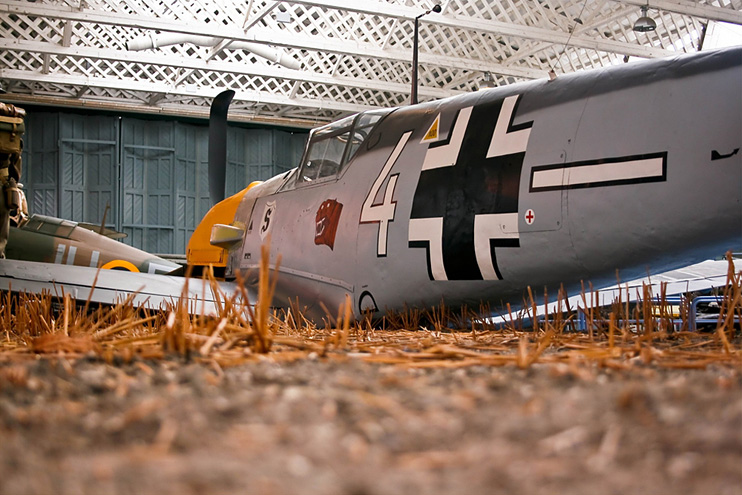 Gaz West photo - Larger Image
More of Gaz's photos can be seen HERE...


---
Back to 'Curtiss Wright'